Customers Cars - Richards S13 is going to Gymkhana Grid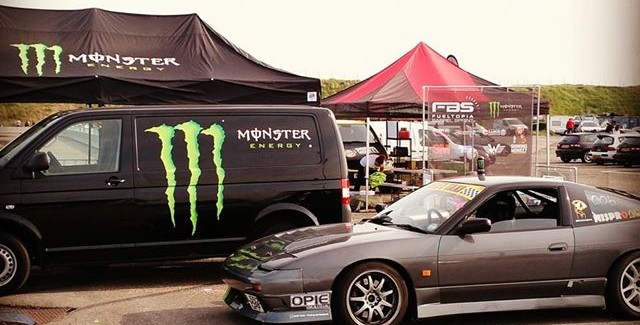 On

August 8, 2014

https://www.safelyinsured.co.uk
Long time customer of Safely Insured, Richard owns this Nissan 200sx and when the rest of the drift world are immersed in engine swaps with big V8's going into a lot of competitive drift cars, this beauty still runs its original CA18DET engine, with a very long list of mods to go with it.
Engine and drive train:
Rebuilt CA18DET
Oselli Balanced crank assembly including fly wheel and clutch cover.
Wiseco forged pistons
Wiseco rings
Apex Performance Forged Rods
TOMEI 2mm Head gasket (the last one that was in the wearhouse in japan)
ACL Race big ends
ACL race mains
Ported head with matched inlet manifold/ plenum
Polished chambers
CA16DE inlet Cam
Standard exhaust cam
custom HKS top mount manifold
custom Braided turbo oil feed
custom Braided turbo water feed
Garrett GT2871R with Tial V-Band exhaust housing
Turbosmart 38mm external waste gate
ASNU 600CC injectors
NISMO engine mounts
NISMO Gearbox mounts
Greddy Profec type-S
Apex Performance FMIC
Apex'i Power Intake
custom exhaust with Blitz NUR Spec-R  back box
Cusco Catch tank Inlet side
DW catch tank exhaust side
Walbro fuel pump
NISTUNE ECU
Nismo 2-way Diff
Garage Defend Carbon GT Cooling Panel
NISMO Oil Filler Cap
Interior:-
Cusco Safety 21 7 point roll cage with side bars
SPA Design dual digital Boost/Water Temp
SPA Design Dual digital Oil pressure/ Oil temp
Nardi Twin line
MOMO Boss
DRIFTWORKS quick release
Corbeau Pro-Series seat on custom mounts through the floor
Driftworks FIA harness (drivers Side
Sabelt 4 point Harness (passenger side)
stripped out back end
NISMO Gear Knob
Chassis:-
Work XD9's 17x 8.5 ET 25 + 5mm spacers all round
Front & Rear Cusco OS Strut Braces
White line front bottom arm bushes
Driftworks Control System coilovers CS1's
GodSpeed ARB front and rear
Apex Performance bushed TC rods
Apex Performance bushed camber and tow arms (rear)
Super pro rear hub bushes
Driftworks rear subframe bushesBody work:-
Uras N+ body kit
Nismo sytle bonnet vent
WanGan wing
Richard decided against the competitive side of the drift scene and favoured using his skills and car to offer passenger rides at the car shows we all know and love. However this year he will be applying for his British Drift Pro Licence and impressively has entered Monster Energy & Ken Block's Gymkhana Grid Event! But that's not all, having driven half way across Europe to compete, successfully won the qualifying heat in France and will be taking part in the Final In Madrid in October!
Not only are we very happy to be insuring Richard and his cars, but we'll be keeping an eye on his progress with further reports to come!
Get over to Richard's Facebook Page and give him a like to show your support!
Credits and a big thank you to www.danfegentphotography.com – Dan Fegent Photography
Call for a quote: 03303 331251