Wilton House - Classic & Supercar Show 2014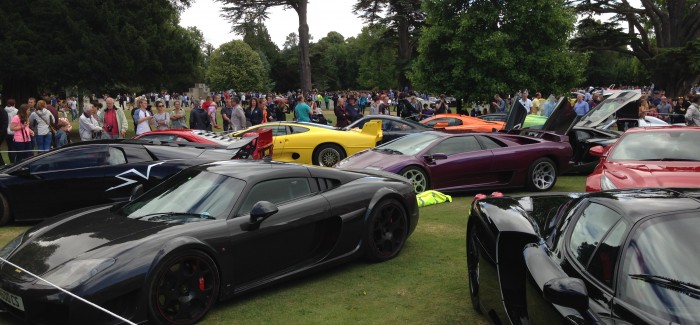 On

August 14, 2014

https://www.safelyinsured.co.uk
We recently had the pleasure of being invited to the Wilton House Car Show, for those who have had an opportunity to visit Goodwood this provides a similar experience without the struggle against the crowds and a significantly less expensive day out too. This didn't in any way detract from the cars that had made the trip in the awful early morning rain to make this show such a success! It proved to be a wonderful day out and did we see some cars on show, its difficult to know where to start!
As you enter the estate, the grounds open up in front of you and dotted around on the grass were a wonderful selection of classics to begin. Really spoilt for choice so the first car that really caught my eye was a Datsun 240z in immaculate condition.
As the rain fell, heavily there was a question mark in the air about how many people would arrive, if any of the cars themselves had decided not to come along but it quickly became apparent that the weather wasn't stopping anyone.
On any other day, seeing some of the classics might have been enough but I found my eyes gazing across the green to the modern classics next. A member of The Independent Porsche Enthusiasts Club kindly stepped out of the safety of his tent to show me his beautiful 928.
This Ferrari 250 was a real head turner and won best classic on the day!
Aston Martin, Bentley and Maserati all had stands of their own and weren't shy with the cars they arrived with. Other car clubs, including TVR's and Bonham's Auctioneer bought along a wonderful selection of their vehicles.
A Rally demo took place and for the 1st hour or so all you could hear were these being thrown around the off road track built into the background of the event.
Theme for the day was old Vs new with centre stage saved for an awesome display of the latest cars alongside their predecessors, particular favourites of mine were the Maclaren P1 standing alongside the F1 and the Gullwings standing tall on their podium.
The two Lambo's in green looked stunning next to each other and drew plenty of attention, however the Maclaren P1 were sitting right next to them both!
BMW's revolutionary I8 stood aside the M1 – both ground-breaking cars in their own right.
And obviously knowing that I was going to present there were even some Japanese stunners hiding away too, much to my pleasure!
Whilst not quite my taste this chrome wrap Mitsubishi Evo certainly set the day off as the sun rose in the afternoon….and reflected everywhere!
And if all of that wasn't enough, there was even a couple of stand out vehicles that probably wont be seeing the road anytime soon….
…Including the proposed design for the new land speed record, merely gunning for the 1000 miles per hour mark!!!
And a special mention for this chap who, using parts from toy cars produced paintings of cars…if you ever wondered what to do with those broke RC cars in the loft, well why not produce an epic piece of art using it! (Ian Cook of http://www.popbangcolour.com/)
In the beautiful setting of Wilton House, some cars that I might never see in person again, some certainly wont ever get seen on the roads. I felt privileged to be amongst such an array of incredible vehicles I really couldn't be more positive about the whole experience, an absolute must for car enthusiasts!
There was simply too much to cover in one article and so I have saved the supercars for our facebook page – The gallery of the supercar paddock photo's can be seen here: Facebook – enjoy!
And remember to get a quote from us when that renewal comes about!
Call for a quote: 03303 331251