Customer Car Gallery - Meet 'Zed', the Nissan Fairlady Z33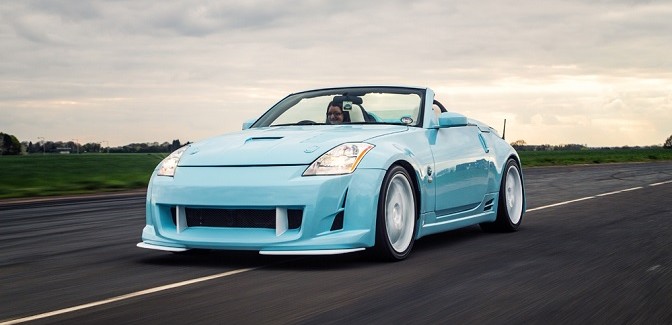 On

October 16, 2015

https://www.safelyinsured.co.uk
This week's Customer Car Gallery is all about Amy Slade and the famous 'Zed'.
Amy is well known in the car scene. She's always had a car which made heads turn. Her current car is a Nissan Fairlady Z33 Roadster, which she has owned for the past few years.
In the few years that Amy has owned the 3.5Litre V6, she has transformed the car so much. You would not believe the before and after pictures.
The car has been resprayed 'Datsun Sora Blue' which was a signature Datsun sports car colour. The respray really makes the car stand out with its unique colour. Amy has kept the colour theme simple and tasteful with the colour coded engine bay and interior matching the exterior paint.
Amy has always been a car enthusiast and always had a love for Jap cars and the Fast and Furious films. So much so, that her private number plate is a tribute to the late Paul Walker. The plate reads 'FA51 AMY'. She says she has always felt like part of the 'Fast Family'. Especially with her love and involvement of the films at two of the premiers. On the bottom of the plate it reads 'In loving memory of Paul Walker'.
Since owning the car, Amy has attended hundreds of shows and events, including the Fast and Furious 6 world premier in London. Her car was one of the 19 modified cars which were hand picked by Universal to attend the event in London's Leicester Square. As well as attending the event, 'Zed' also won the best car there which meant that Amy won a driving experience day.
As well as the UK shows such as Japfest, Japshow and many others, Amy was also invited to attend a car show in Rotterdam called '100% Tuning'. This event is an invite only event, where she won 'Best in Show'.
As well as that, she also won 'Best Audio Award' at Modified Nationals this year.
Amy mainly goes to the shows by herself, so really appreciates the reception she receives from fellow enthusiasts.
She would like to say a special thanks to the following companies for their help towards making 'Zed' the way it is now;
Clarion
Yokohama
Samco Sport
Bilstein
Ultra Racing
The Performance Company
Pipercross
NGK
Safely Insured
We would also like to say thank you to Amy for being a loyal customer for so long. We look forward to seeing you at many more shows in the coming years and the future modifications that will be transforming 'Zed'.
To see more of Amy and 'Zed' you can find her on social media; Facebook, Instagram and YouTube.
You can also view pictures of her car on our Customer Car Gallery page.
Modified cars require a specialist insurance scheme to ensure all the modifications are covered and at the correct value. For information relating to modified car insurance, our website contains further details.