Customer Car Gallery - The 749bhp Supra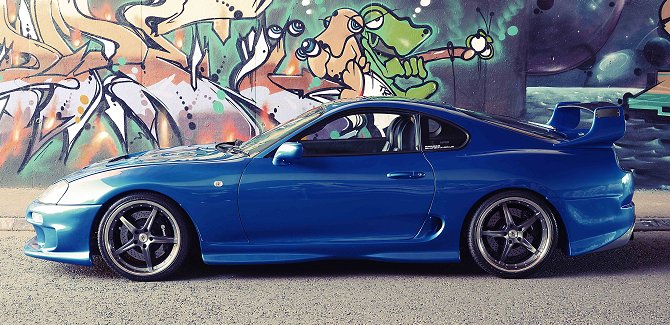 On

December 29, 2015

https://www.safelyinsured.co.uk
This will be the last Customer Car Gallery post of 2015 and oh my, we have saved you an absolutely astonishing car to see out 2015. This time we would like to introduce you to Paul and his Toyota Supra. The Supra is insured via one of our modified car insurance schemes, here at Safely Insured.
Paul bought the car as stock with 326bhp. The car is now heavily modified and running at an incredible 749bhp.
We put some questions to Paul about his passion for cars and just how much work has gone into this beautiful Toyota Supra. So much time, effort and care has gone into this car. As you read on, you'll find out just how much…
Customer Car Gallery: Toyota Supra
Please can you tell us a little bit about yourself and when you first discovered your interest in cars?
I found my interest in cars when I was about 15 years old, from reading articles on the internet, buying magazines and watching DVD's. As soon as I turned 17, I had driving lessons and passed in the first year. Then, I was ready to start putting all I have watched and learnt into practice on my own cars.
What modifications has the car undergone?
We have had to list just a few of the overall modifications the car has undergone. The list is literally just a snapshot of the upgrades. In reality, we wouldn't have been able to fit all the modifications in this post, there are so many of them!
Engine:
HKS BOV
Vibra Tech Engine Mounts
Stock 3.0L 2JZ-GTE Engine
Big Front Mount Intercooler
Turbocharger & Induction:
K&N Cone Air Filter
Custom Automotive Braided Lines
Precision Turbo 6766 Billet Turbo
SRD Plenum Inlet Manifold
Fuel, Tuning & ECU:
K&N Cone Air Filter
Custom Automotive Braided Lines
Precision Turbo 6766 Billet Turbo
SRD Plenum Inlet Manifold
Exhaust:
Whifbitz Twin Wastegate Manifold
Twin Trial 42mm Wastegates with screamers using Aeroquip Braided Lines
4″ Whifbitz Down Pipe
AKS Custom Exhaust using HKS Super Silent Back Box And Whifbitz Midsection
Suspension, Wheels, Tires & Brakes:
BC Coilovers
19″ BK993 Alloys
Michelin Pilot Super Sport Tyres
15″ Big Brembo Front Brakes (Slotted)
How has your car transformed from when you bought it?
I bought the car when it was in Japan. It was totally stock and black. The car was imported by Jurgan at JM imports. As soon as it landed in the docks, I requested lots of work to be done on it before I even picked it up.
Do you attend any car shows with your car? Are you planning to attend any in 2016?
Yes, I hope to attend Japfest again and general meets – my car can be on any stands, upon request from people that contact me via Facebook.
Do you plan to add further modifications to the car?
Only a few bits left to do; Twin fan radiator kit, Whifbitz pulley set and Whifbitz carbon fibre cam belt cover set.
On behalf of Safely Insured, we would like to say a huge thank you to Paul for taking the time to share his beloved Toyota Supra with us and our Customer Car Gallery.
We hope to see you at many car shows in 2016 and hope the long list of modifications continues.
If you would like to see Paul's car in action, you can visit his YouTube page.
For more pictures of Paul's car, you can visit our Customer Car Gallery page.