Customer Car Gallery - Ryan's 430bhp Nissan 200sx S14a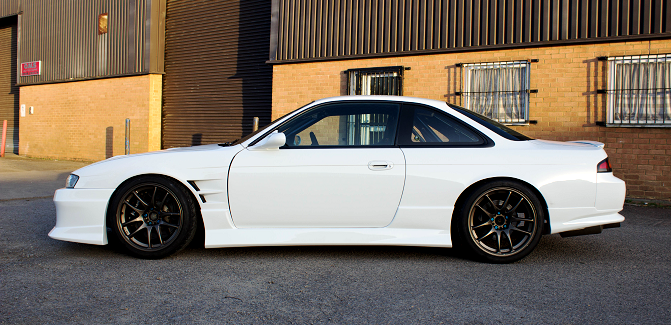 On

January 21, 2016

https://www.safelyinsured.co.uk
This week's Customer Car Gallery features a 1999 Nissan 200sx S14a, with a 1998cc engine, which belongs to Ryan, who is insured via one of our modified car insurance schemes. When Ryan first bought the car, it was 197bhp as standard. He has now transformed the car into a spectacular looking vehicle running at a powerful 430bhp with 380 ft-lb of torque.
The car has been transformed in terms of both the appearance and the performance. We put a few questions to Ryan regarding the transformation of the Nissan 200sx S14a and his passion for cars…
When did you first discover you have a passion for cars?
I have loved cars since a very young age; I always had toy cars and video games. Really became fired up about them when I was 16 and spent a year planning what I'd do to a first car.
Nissan 200sx S14a
How has your car transformed from when you bought it, to now?
I bought it as an almost standard road car with some minor engine modifications and an aftermarket turbo. From there I stripped the car to a bare metal shell, no glass, no wiring, and rebuilt it into a track car.  Everything on the car was new; body panels, wheels, suspension, ECU, engine, even most of the nuts and bolts that it went together with were bought from Nissan.
Here is just a small snapshot of the list of modifications the car has undergone:
Forged Engine
Full Race / Borg Warner Twin Scroll Turbo system
Mazworx Fuel Injection Kit with Injector Dynamics injectors
Apex'I Power FC ECU
Mazworx Gearbox conversion kit with 300ZX gearbox
Apex Performance suspension package
Work Emotion CR Kai Alloy Wheels, 356mm K Sport Brakes
Fabricage Roll Cage, K Sport Bucket seats with OMP Harnesses
OMP Steering Wheel, Seibon DV Carbon Bonnet
SRB Power GT Auto Kit (customised by Triple R Composites)
We also asked Ryan if he attended any Car shows in 2015, if he will attend any in 2016 and if he plans to add any further modifications to the car. Ryan advised that he didn't manage to make it to any shows in 2015 and he's not sure if / what ones he will be attending in 2016. He also does not plan to add any further modifications to the car. If you saw the full list of modifications – you would probably agree that no further modifications are needed – it's a great car as it is now.
We would like to say thank you to Ryan for the insights into his car and how it has been modified into the car you see today. It's clear to see that a lot of hard work has gone into it.
If you would like to see more pictures of the car, visit our Customers Car Gallery.
Additional Information: Imported Car Insurance |  Performance Car Insurance | Modified Car Insurance