Modified Car Fails - 5 Worst Car Modifications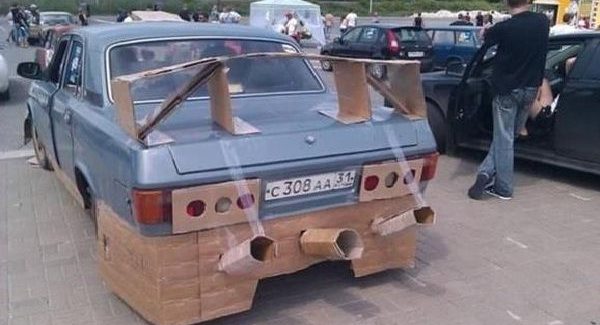 On

May 21, 2016

https://www.safelyinsured.co.uk
Here at Safely Insured, modified cars are what we live for. We love to share the unique cars of both our customers and staff. Today we're sharing something a little bit different. Here is a list of the five worst car modifications, did your car make the list?
#5 – Paper planes are one thing, but cardboard cars?
We love the amount of effort that must have gone into creating this cardboard masterpiece. The best we can say is – at least it's not permanent. In fact one of our team members were so inspired that they tried to recreate it – looking good, right?
#4 – Wooden you like to drive this?
This car comes in at number four because that wood looks fairly secure which makes us worry that someone has been driving it around. Maybe this was a DIY/fixer upper approach to an accident, or maybe its a design choice – either way you couldn't convince us to get behind the wheel of this woodwork wonder.
#3 – Utterly exhausting
This was probably a great idea in theory, but in practice this seems to leave a lot to be desired. We couldn't face the daily clean up that seems to be part of this modification – perhaps the owner should have sprayed the car black to try and hide the daily dirt?
#2 – Monster madness
Seems as though the owner of this car has a serious case of monster truck madness, or maybe they are just over compensating for something. Either way, this cross between the sensible family car, and oversized truck makes us wonder how they manage to get their weekly shopping in the boot – do they bring a ladder?
#1 – The 'worst car modifications' winner: Frankenstein's car
Dr Frankenstein clearly owns this car and the awful mash-up of body parts clearly isn't working. We're not sure what he was aiming for but this probably wasn't it. Honestly, when we first saw this picture we thought  that it may have been photoshopped – we certainly can't imagine getting behind the wheel of this monstrosity, can you?
Have you seen anything worse?
If you find a worse modification, we want to know! Leave a comment below or join the conversation over on Facebook.
Having a modified car can often mean a pricey premium. Here at Safely Insured we believe that modified car owners are more invested in keeping their cars safe and so offer premiums accordingly. So if you're looking for competitive rates on your modified car or van, then you need look no further – Safely Insured are experts in the field of modified insurance so you can rest assured that you'll be in good hands. Call us today on 03303 331 250 for a quote.