We raised over £700 in support of #ForPetersSake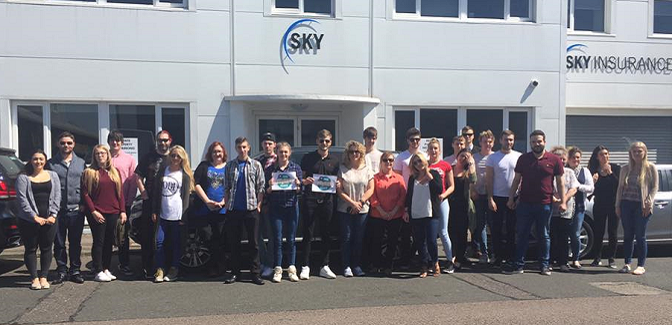 On

May 8, 2016

https://www.safelyinsured.co.uk
On Thursday 5th May 2016, we held a fundraising event here at Safely Insured to support #ForPetersSake. Not only did we have a 'dress down' day in the office, we also held a bake sale, which included lots of delicious cakes, biscuits and cookies.
The main aim was to raise as much money as possible for Peter. With the support of more and more people, together, everyone can help Peter, his family and his friends achieve their target of £50,000. Let's talk about what #ForPetersSake is about and what fundraising is being done…
#ForPetersSake
#ForPetersSake is a fundraising campaign set-up by Peter's family and friends in order to obtain enough money for him to have access to treatment that could potentially save his life. At just 23, Peter is fighting an extremely rare cancer condition – a cervical cordoma. This disease only affects around 50 people in the world, each year. Peter's family and friends are working together to try and raise £50,000 to get Peter to America to undergo tests and treatment which could potentially save his life. Every single pound helps towards this total and so far they have raised nearly £30,000 which is absolutely incredible (considering the campaign only started a couple of weeks ago).
Fundraising at Safely Insured
We spoke with Dan (a friend of Peter's) who works at Safely Insured. Dan explained how much of a nice guy Peter is, a genuine person, with a good heart. He explained how they went to the same school and that he wanted to do something to help raise money for him. So, Dan and Josie (who also works at Safely Insured and also knows Peter) set about organising an event day here in the office in a bid to raise as much money as they could for Peter. They achieved their goal – in total we have raised £360.65, which our Company owner has kindly offered to match, making the grand total: £721.30.
Fundraising events
In an attempt to raise as much money as possible, there have been numerous events held, with more taking place in the near future, to raise money for Peter's cause. Last Saturday there was a 'tanathon' held whereby women and men had spray tans – this is also taking place again tomorrow. The Saturday just gone also saw a Karaoke night and on Saturday 21st May 2016, a music festival is being held in Potters Bar whereby a 'high profile' recording artist will be attending.
A variety of celebrities have also got involved, to help show their support for Peter. Peter's story has reached the Twitter feeds of: Emma Bunton, Zayn Malik, Richard Hammond and Fleur East, who all showed their support via tweeting and / or re-tweeting.
In addition to events also being held in Spain as family friends live there, the local newspapers such as the Welwyn Hatfield Times have also published articles on the campaign. Radio stations have also been discussing it, in addition other newspapers and social media sites.
Show your support
If you would like to donate, or read more about Peter, you can visit his JustGiving page. Alternatively, you can read more about what's going on with the fundraising campaign, events and Peter, on the Raising Money For Peter Douthwaite Facebook page, which has over 10,500 followers.
THANK YOU!