Customer Car Gallery: Wayne's Nissan Skyline R34 GTR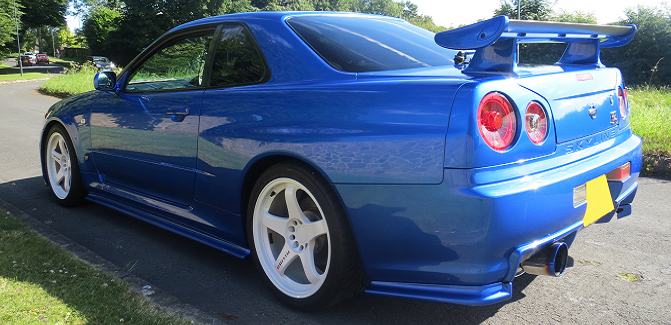 On

July 22, 2016

https://www.safelyinsured.co.uk
This week, our Customer Car Gallery features Wayne and his Nissan Skyline R34 GTR. Wayne's a man who has owned a car or two in his time and certainly knows his stuff when it comes to modifying and maintaining them.
Wayne has been the proud owner of many marques, modified and performance cars, over the years. These marques have included: Ford, Renault, Subaru, Mitsubishi, Audi, and Nissan.
We asked Wayne a few questions regarding his passion for cars and how it has evolved over the years…
When did you first discover your interest in cars?
As I was growing up, I was always interested in cars. Apparently, it wasn't something I was able to grow out of either – that and football.
How many cars have you owned?
Well, my first car was a 1982 Ford Fiesta and the insurance on it was an absolute nightmare. I then upgraded for something a little more powerful – the Fiesta Supersport. It was a 1981 model and is still going strong – it only lives two streets away. I then went on to buy a Renault 5 GT Turbo; however I soon moved on to another car. Not long after the Renault purchase I bought a Sierra Sapphire Cosworth 2wd in Moonstone blue. I loved the car but at age 21, I was paying £1000 for insurance (we're talking about 20 years ago now) so this was a ridiculous amount of money to be spending. I've also owned an: MR2 GTS Turbo, Subaru Impreza, Mitsubishi Evo 4, Mitsubishi Evo, and an Audi RS4 B7.

I also owned a Nissan Skyline R34 GTR V spec in bayside blue. This car was virtually standard, well, all apart from the exhaust. I'd describe this car as "the one that got away". If I had the chance again, I do not think I would have sold this car. After I sold it, I was gutted (to say the least). I sold it after the birth of my son and needed something more practical in our lives. I just didn't realise how I would feel when I watched the new owner drive away in it. From that moment onward, I knew that if I was in a fortunate enough position to buy one again, then I would.
It turns out Wayne was fortunate to be in that position again, and now he's the proud owner of another Nissan Skyline R34 GTR…
Nissan Skyline R34 GTR
Wayne's R34 is a 2.6 litre twin
turbo super machine, running at approximately 500BHP.
The car is his second bout of love for the R34 and therefore we simply had to ask him more questions, this time, specifically regarding the car itself…
We know you've only owned the car for a short amount of time, but have you done any work to it as yet?
To date, the only thing that I have done is slightly raise the car to make it more practical. It was ridiculously low to start with. Although I loved the stance of the car, it was only a matter of time before the front splitter got ripped off.
Has your car ever been featured in any car magazines or online forums?
The car was actually featured in 'Option magazine'. It's also an ex-Regulus demo.
Will you be attending any car shows with your car this year?
I hope to go to some GTROC meets; I know many of the guys on the forum. I may also attend some other shows throughout the rest of the year – this is work permitting, of course.
Will you be adding anymore modifications to the car in the future?
I don't have any modification plans as yet; I am more than happy with the power and handling of the car as it is now.
We would like to say thank you to Wayne for taking the time to talk to us about his car and his interest in cars throughout his life. If you would like to see more pictures of Wayne's car, please visit our Customers Car Gallery page.
Further Information: Modified Car Insurance | Performance Car Insurance