Customer Car Gallery: Curt and his Modified Honda Civic Type R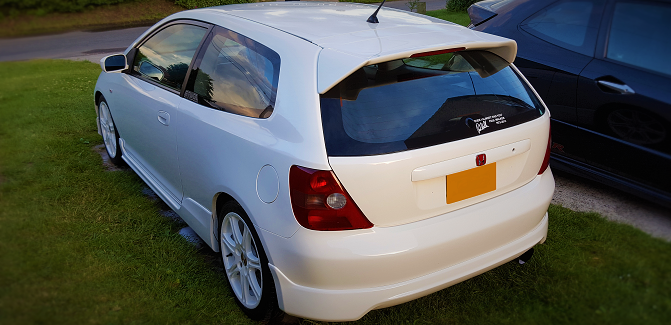 On

November 4, 2016

https://www.safelyinsured.co.uk
Curt's Type R has been modified in such a way, that it's now becoming the car he's always longed for. From Skylines to Imprezas, to Starlets, to a CR-X, Curt has owned many cars in his lifetime. So, what's made him stick with the Type R and put so much time, effort, and money into it since day one? We're about to find out…
And if you're wondering how you get insurance on a modified Type R such as Curt's, his insured under our Modified Car Insurance scheme, and we are super thrilled he chose us to protect his pride and joy…
Meet Curt…
"I have always been a petrol head – pretty much from the moment I was born. My dad has always been into cars, bikes, and trucks, and I think the tradition followed on with me. My parents always tell of a story that even before I could walk, I could tell you the different makes and models of numerous trucks.
My love for cars came when I found Motocross – I was around 10 years old when my passion for cars developed, and ever since the 'Fast and Furious' film was released, I've been a Japanese Car enthusiast – the 3 Honda Civics gave me my love for the Type R (hence why I now own one).
I've owned many cars in my time, 14 to be exact. Mostly, I've owned Honda Civics'. Back in the day I used to own the Haynes Maxpower green Civic. I've also owned: 1 CR-X Delsol, an Impreza turbo, a Toyota Starlet Glanza, a Nissan Skyline R32 GTS-T with the full GTR body and a tuned RB20 (running at 320bhp)."
The Honda Civic Type R
"Right now, my Honda Civic Type R is around 220bhp. It's an ep3 (UK spec) 2002 model and has a 2.0 litre engine. I'd say the bodywork is also immaculate.
When I initially purchased the car, it was 'Milano red' (we call it 'Milano pink' in the Honda scene) and fitted with horrible modifications, purchased off Ebay. I quickly removed all of them and fitted quality brand parts that work and fit properly.
Here's some of the modifications and work that's been completed on the car:
Full respray in 'championship white' (98 Integra DC2 blend)
Replaced the Type R badges with new ones and re-sprayed
The original Enkei alloys have been powder-coated in 'championship white'
Have added an EK9 JDM decal set
Input a 'Skunk2' weighted gear-knob
Added red carpets
Added a Pioneer double-din head-unit with amplified speakers and an Alpine sub
EK9'd headlights (inner part painted black)
Included a full energy poly-bush suspension bush kit, and inputted engine mount inserts
Vibra-Technics front upper engine mount
Tegiwa solid sub-frame collar kit
Projekt K steering rack slider
Beaks rear lower sub-frame brace
AEM v2 induction kit
Scorpion stainless exhaust system with tuner tailpipe
The car was fitted with racing logic Hyper-Street Coilovers but these have since been removed
Currently on Eibach pro lowering springs with camber adjustment front and rear
Originally the car was 197bhp from factory. Currently it's between 210-220bhp with light breathing modifications, mostly concentrated on suspension and body. The current power is more than enough for the chassis. It's still fun to drive.
When it comes to the work put into the car, most of the car I have put together myself. This is apart from a Cam-chain change at TGM – the car was stripped / prepped for painting on my drive.
At present, I've not had my car featured anywhere however I do have a build thread on CTRO. I also built my partners old Starlet SR – this was featured on one of the Japanese car websites however I can't remember what one (as this was about 8 years ago now). She had the first set of Rota GT3 in pink in the UK."
What does the future hold?
"Next year I'd like to attend Japfest and JAE with my car. Before then however, I'm thinking about adding some further modifications to the car. Some of these include: the Mugen 'Aero package' (splitter and spoiler), the DC5 Recaro (or Bride Zeta) seats, JDM LSD, as well as a fly-wheel and a rear anti-roll bar.
My advice for someone wanting to buy a Type R would be to hold out for the right car for you. There are many abused examples on the market. The car should feel very tight and responsive. JDM cars are coming down in price and have great specifications compared to UK cars. CTR's have awesome 2.0 litre, naturally aspirated, high revving engines, with a great chassis, and are great fun. Take it from someone who knows – I have had high powered turbo cars, and the civic is the most fun I have ever had in a car."
Final thing…
If money was no option, what car would you buy?
"I would love to own a Nissan Skyline GTR R34 Nur spec, or an R35 – black edition. Maybe I'd go for a Honda NSX-R also".
We'd like to say thank you to Curt – for taking the time to talk with us about your car, your insights into what to look for in a car, and your knowledge when it comes to modifications.
Curt's Type R is insured via our Modified Car Insurance scheme. For more information on this scheme, visit our website: Modified Car Insurance.
For more pictures of Curt's car and other cars we insure, visit our webpage: Customers Car Gallery.