This 695BHP, 3.8 litre, V6 Twin Turbo Nissan GT-R belongs to Alan!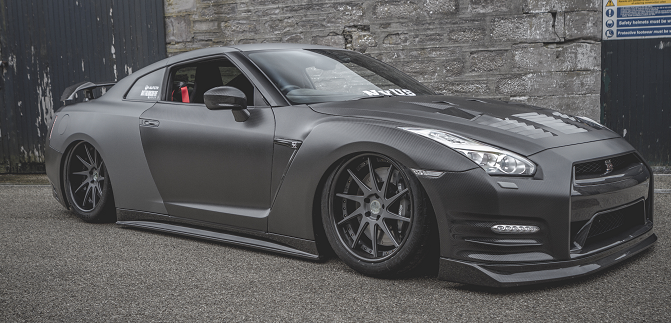 On

August 4, 2017

https://www.safelyinsured.co.uk
Now, there's really not much that needs to be said for this Nissan GT-R. The car, quite literally, speaks for itself. The look, the style, the power, the modifications, the carbon-fibre, the LOT…
It belongs to our customer, Alan. It has won various prizes as well as wooing the hearts of many who have had the opportunity to see the car in person. It's kind of like the car version of Tom Hardy!
Of course, we couldn't pass up the opportunity to feature a car as incredible as this Nissan GT-R. That's why we got in contact with Alan. We present to you: the modifications it has, the questions and answered we asked him, and all of the behind the scenes detail.
Modified Nissan GT-R
Here's a list of the modifications that Alan's Nissan GT-R has…
Performance
Litchfield Stage 4.25 Upgrade: Dyno'd at 695bhp / 626lbft
1,100cc Fuel Injectors
Large Bore performance Forge intake kit with larger MAF housing
ECUtec ECU
Litchfield 102mm Full Exhaust System
Litchfield Race Intercooler
Litchfield Blow off valves
Litchfield Throttle Bodies
Litchfield Downpipes
Forge Header Tank
Brakes
Alcon Super Brake Kit
Pagid PS29 Brake Pads
Suspension / Handling
Airlift Performance Suspension
Eibach Anti Roll Bars
Wheels
AG Carbon Fibre 421 wheels with Neochrome Hardware 20/10 Front 20/12 Rear
Michelin Power Super Sport Tyres 285/35/20 Front 335/30/20 Rear
Or
ADV1 10MV2SL with Candy Red Barrel 20/10 Front 20/11 Rear
Michelin Power Super Sports Tyres 275/35/20 Front 305/30/20 Rear
Muteki SR35 Neochrome Wheel Nuts
Interior
Mines Steering Wheel
Carbon Fibre Steering Wheel Cover
JCR Carbon Fibre Shift Paddles
Revosport Carbon Gear Knob
Custom Carbon Fibre Interior Trim: Air Con Vents, Centre Console, Large Gear Surround, MFD Surround, Window Switch Control, Mirror Switch Control, Door Lock, Door Vent, Door Pull, Speaker Surrounds Front & Back, Cup Holder Surround, Rear Cup Holder Surround
Custom Alcantara: Re-trimmed Door Cards, Door Handles, Dash Panel, Speedo Cover, Centre Tunnel, Sub Surround, Rear Quarter Panel, Parcel Shelf, Headliner, A Pillars with Custom Tweeter Mount, B Pillars, Handbrake Handle, Handbrake Gaiter, Gear Surround, Gear Knob, Sun Visors
Recaro Seat Sliders
Custom Alcantara / Leather Re-trimmed Recaro Sportster CS Seats
Rear Seats to match Fronts
Custom Carbon for Recaro CS Sportster Seat Shell and Trim
Planted Seat Frames
Red Seatbelts Front & Back
LED Upgrade for Interior Lighting
LED Lighting for Foot Wells
Custom Alcantara Panel for Accuair, Target Blu & Audison DRC controls
Exterior
Expel Matte PPF over real carbon fibre bodywork with Dark Grey Vinyl Rear Quarter
Carbon Fibre: Roof, Door Handles, Bonnet Damper, Slam Panel Surround & Intercooler Intake, Rear Diffuser, Front Splitter, Side Skirts, Grille, Fender Vents, Front Fender Logo Holders,, Engine Cover, Rear Spoiler, Front Wings, Front Bumper, Rear Bumper, Doors, Bonnet, Boot Lid, Mirrors, Canards
LED DRL Indicators
Difflow Rear Diffuser
All Bulbs Upgraded to LED
LED Rear Reflectors
Tommy Kiara LED Rear GTR Emblem
Window Tints
Litchfield Stainless Steel Under Tray Bolts
Neochrome Titanium Engine Dress Up Kit
Audio
Audison BitPlay HD
Audison BitOne D Processor
Audison Voce 5.1K Amp
Audison Voce Speakers all round
Kicker 8" L7 Subwoofer
Fully Sound Deadened
Boot (install by Plush Automotive)
Custom Carbon 5-Gallon Tank for Air Suspension
Accuair eLevel Management
Accuair iLevel
2 x ViaCorp 444C Compressors
Custom Chrome Hardline Install
LED Lit Display for Air & Audio
Custom Carbon Surround
Q&A with Alan
When did you first discover you had an interest in cars?
I've always been interested in cars, since before I could drive. Anything involving adrenaline peaked my interest.
What was the first car you ever owned?
My very first car was a Mk5 Ford Escort. Although, it was bound for the scrap yard and probably should have went there, but I loved it back then.
What garages do you use to perform the work on your car?
Litchfield Motorsport do all the tuning for the car, whilst Protek Bathgate and PTW Detailing look after the bodywork and detailing.
Are you attending any car shows in 2017?
I've attended a few shows this year; I work a lot of weekends so often miss out. I travelled to the European tuning showdown, which is 'a best of Europe' car show. I placed 5th against some pretty crazy show cars – not bad for a daily!
Has your car ever been featured in any magazines / online forums?
The car has been shared on various forums / Facebook groups. It's also had a feature in Banzai Magazine, just after the carbon bodywork went on.
What advice would you give to someone who wants to modify their car for the first time?
Budget and save! A few little things quickly add up to a whole lot of cash. But mostly, modify it for yourself – do what you like and what you think will work. It also takes time, it's taken me just over 3 years to go from bone stock to where it stands now.
If money was no option what car would you buy?
So many too choose from, I think I'd have a Mclaren 675lt, with the full carbon works and some special MSO paint. Because, why not?
If you could pick a career that involved cars, what would it be?
It would have to be something involved with drifting. I've actually got another car for drifting, and it's as much fun as the GT-R – any day.
Do you have any plans to further modify your car?
Yes, maybe some more power and there is always room for some more carbon fibre. But, for now, I'm happy. I've got another project car on the go at the minute, so that's keeping me busy.
Insurance for a modified Nissan GT-R
A car such as Alan's Nissan GT-R, is so highly modified and has so much power, that it requires a specialist insurance policy. A policy which covers every single modification and has the ability to offer things such as 'like-for-like' modifications cover, or 'agreed valuation' cover.
Here at Safely Insured, we can offer both Modified Car Insurance and Performance Car Insurance. If you want to know more about the specifics, just visit our website.
Further Information: Modified Car Insurance | Performance Car Insurance | Imported Car Insurance