Craig's Ford Focus RS was featured at the London Motor Show 2018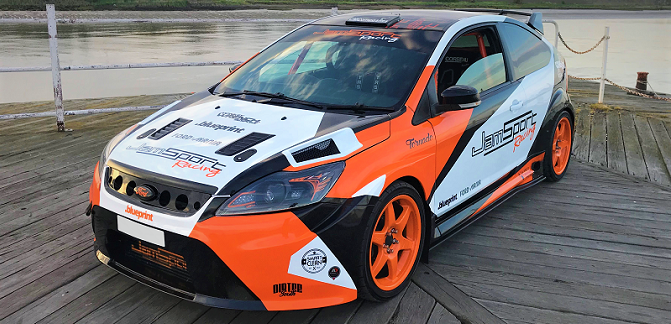 On

May 23, 2018

https://www.safelyinsured.co.uk
Did you attend the London Motor Show 2018? If so, it would have been hard to miss Craig's modified Ford Focus RS. Craig's car is currently running at an extremely impressive 670bhp and 702 ft-lb torque. We'll discuss more about Craig's Ford Focus RS and the modification work later, first – let's provide an overview of the London Motor Show 2018.
The London Motor Show 2018
The London Motor Show 2018 took place at the ExCel London from 17th-20th May 2018. Some big brands attended the show to exhibit, such as: Bentley, Rolls Royce, H.R.Owen and Drivetribe.
The entertainment on the day was second to none… A company called 'Dub Customs' live wrapped Paul Wallace's Mercedes. Paul Swift's team thrilled audiences with sideways parking, 'dance' routines, and some two-wheel driving (using the latest Ford cars). Mercedes-Benz World's 'Silver Arrows' performed some spectacular driving techniques and skills for their display. Mercedes-Benz also held an event for people under 17 to get behind the wheel of a car for the first time, how cool is that?
As well as the exhibitors and entertainment, there were a lot of modified cars on display – Craig's Ford Focus RS being one of them. Craig happens to be one of our customers. We took the opportunity to speak with Craig about the excitement of the day, as well as about the modifications on his car…
Craig's Ford Focus RS
Can you guess just how many modifications have been added to Craig's Ford Focus RS? Well, don't worry, you don't have to guess. We're going to provide you with an overview of the work.
Here's a list of the modifications:
Running EMU Engine Management
Airtec Stage 3 Intercooler
Garret GTX3586R Turbo
Bigger Exhaust housing on Turbo
Tubular Manifold
3J Platted Diff
Uprated Valve Springs
Oversized Forged Pistons and Rods
Monkeywrench Bespoke Lights
Ported, Polished and Gas Flowed Head
NGK9 Spark Plugs
Billet Anembo Inlet Manifold
JS 1000cc Injectors
JS Fuel Pump Upgrade
Uprated and Oversized Valves
JS Big External Fuel System
JS 2.5 Enlarged Boost Pipes
Custom JS Side Exit Exhaust
V-Band Downpipe
Lightweight Flywheel
TTV Twin Plate Paddle Clutch
JS Custom Big Crossover Pipe
BC Racing Coilovers
Momo Snap off Steering Wheel
Whiteline Front and Rear anti-roll bars
Whiteline Full Poly Bush Kit
AP Racing 6Pot Brake Kit
Ferodo Indurance Pads
Pair of Seat Harnesses
Vibratechnics Gearbox Torque Link
18″ Compomotive Alloys & AD08R Tyres
JS Oil Breather Kit
JS Oil Cooler
44M Tial Wastegate
Screamer Pipe
Uprated Bigger Radiator
Stage 2 CAMS
Autospecialist Chrome Parts
Carbon Fibre Battery Cover
Ramair Bigger Airfilter
Carbon Fibre Slampanel
Carbon Fibre Wing Rails
WRC Bonnet Vents
Streamline Carbon Interior
Custom Wrap by Blueprint
Roose Boost and Coolant Hoses
Jamsport Orange Roll Cage
Leightweight Carbon Bucket Seats
Roof Wrapped by Blue Print
Aerocatches
ARP Uprated Head Bolts
Custom Boot Carpet by Streamline
BTCC Front Bumper and Wings
All work carried out by JAM-SPORT and Autospecialists
We asked Craig what his favourite thing about the car is:
"I've owned my 2009 Ford Focus RS Mk2 since 2009. What I love about my car is the way it can be a daily car on the road but when I take it on track, it comes alive with all the mods that have been carried out on it. I simply love parking her up at meets and cruises – I like seeing the reactions of people that are looking at the car."
We also asked Craig what he thought of the motor show:
"The London Motor Show 2018 was such an amazing opportunity to display my car. My car was on display for the duration of the show. The car received a lot of attention and lots of nice comments, which of course made me happy. There were so many other amazing cars on show at the ExCel too, which is a great venue by the way."
To read more about the show, visit the London Motor Show website.
Insurance for a Ford Focus RS
A Ford Focus RS comes with more power than a standard Ford. Especially when you add modifications to it. As a result, many standard car insurers won't cover this type of car.
Here at Safely Insured, we're Modified Car Insurance specialists – many of us are car enthusiasts ourselves! We offer Modified Car Insurance policies which can offer things such as 'agreed valuation cover' and 'like-for-like modifications cover'.
For more information, visit our Modified Car Insurance webpage.
Further Information: Safely Insured Website | Get a Quote | Performance Car Insurance | Ford Car Insurance