Customer Cars: Tommy's Modified Toyota JZX100 Chaser Tourer V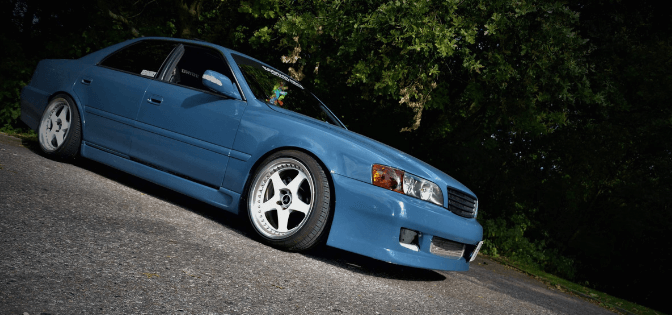 On

September 24, 2019

https://www.safelyinsured.co.uk
Toyota is one of the most common marques that we put on specialist cover here at Safely Insured. However, setting aside the popular Supras, which we have featured many a time in the past, we're taking the time to appreciate Tommy's Modified Toyota JZX100 Chaser Tourer V.
The Toyota Chaser is a car that has performed something of a metamorphosis, transforming itself through 6 generations in 34 years. Initially intended to be a competitor to the Nissan Skyline, the Toyota Chaser came into its own and gained a loyal fan base with car enthusiasts everywhere.
Its single turbo set-up allowed a great base for modifications. In fact, Toyota won the 1998 Japanese Touring Car Championship Season with a highly modified JZX100.
Our customer Tommy also appreciates the Toyota JZX100 Chaser as a base for his modifications. Let's take a look at the extensive modification list.
Tommy's Toyota JZX100 Chaser: The modifications.
Bumpers and Side skirts make unknown from Japan.
Wheels are Work AMKREAD AM1 18×9.5j et-25 in Yokohama tyres.
Toyota aristo door mirrors with led puddle lights and indicators.
Smoked amber front indicators.
Painted in blue, actual colour is unknown as it was painted before it was imported non factory and all door shuts engine bay is still in factory white.
1JZ-GTE VVTi engine single turbo
HKS intake kit and mushroom filter.
HKS large front mount intercooler.
Greddy radiator and thermostat.
Factory turbo.
HKS Cambelt and oil filter.
5inch sports cat and full HKS HI-power 3.5inch cat back exhaust with rear HKS HI-power back box.
Genuine Bride Recliner driver's seat.
Defi oil pressure gauge.
Defi boost pressure gauge.
Kode blue suede deep dish steering wheel.
Razo mid gearknob.
Greddy boost controller.
Greddy turbo timer.
Defi hud.
Defi controller.
Centre body brace.
Blue checkerboard tailor fit floor mats.
Body Colour coded interior trims and door trims.
KTS Coilovers with adjustable dampers and height adjustment all four arches have been cut, rolled and flared slightly.
Q&A with Tommy
What inspired you to buy the Chaser? 
"I saw a video when I was 13 of mountain drifting in Japan and as soon as I saw the Chaser, I knew I wanted one. Then for my 21st birthday I bought myself this particular one. I bought the car through Drift Street Imports in late April 2017, it was imported, and I collected it on the 8th of August 2017."
What do you love most about it? 
"My favourite thing about driving it is that it may not be the fastest thing, but it hits you in all the feels and the sound just tops it off. It can carry 5 people in comfort, but still has the grunt to scare you silly."
With so many modifications under your belt, do you have any advice for anyone thinking about getting into the modified car scene?
"My only advice for first time modders/importers is to find a reputable importer and to make sure you have experienced mechanics to look over any vehicle thoroughly before making any sort of purchase and to know the vehicles common issues/faults to know what you're looking for."
"And in terms of modding your car, it's your car not anyone else's. Go for what you like and can afford. If everyone liked the same thing then car meets would be very boring."
Insurance for a Modified Toyota JZX100 Chaser
There's no need to hide away your modifications from your insurer. We're the insurance specialists when it comes to cars like Tommy's.
Such extensive work deserves to have the right protection. Our modified and imported car insurance policies cater for different needs compared to a standard car insurance policy. We can offer:
Left Hand Drive Car Cover
Cover for Imported 4x4s
Young Driver Friendly Cover (aged 19 or over with two years driving exp.)
Modification Cover
Breakdown Cover
For further information, check out our Imported Car Insurance page.
More Information: Safely Insured Website | Insurance for a Ford | Get a Quote | Call Us