Evo Track Events Summer 2015 with Safely Insured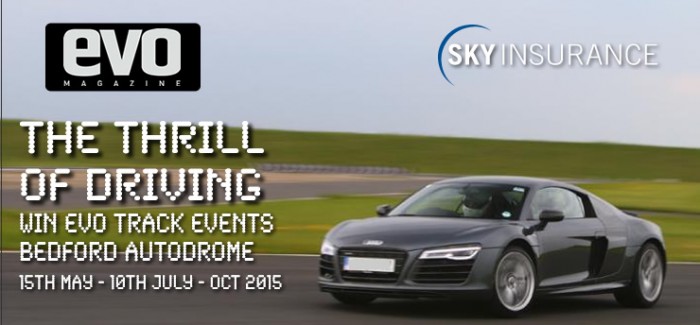 On

April 9, 2015

https://www.safelyinsured.co.uk
Safely Insured are proud to announce, in line with their continued affiliation with Evo Magazine, they will be sponsoring the Evo Track Events this summer. You will also get the opportunity to WIN some car spaces at these Evo events and enjoy 'The Thrill of Driving' for yourselves.
The events take place at the Bedford Autodrome on the following dates:
Friday 15th May 2015
Friday 12th June 2015
Friday 10th July 2015
Friday 7th August 2015
You can buy spaces from the Evo Magazine website – but why spend your money when you can WIN a place for you and your 'pride & joy' on this famous track by entering the competition on the Safely Insured website.

Entries are FREE and you don't even need to be a Sky customer – so spread the word and invite your friends & family to enter.
Meet the Safely Insured & Evo Staff
Not only will you be able to enjoy this amazing track with your car, you will also get a chance to meet up with some of Evo Magazine's writers and staff, along with several members of our very own Safely Insured team, who will be attending the events.
Best of all, you will be surrounded by liked-minded car enthusiasts having a great day out on the track.
Safely Insured staff will be at the May & July events, along with the winners of the car spaces competition. The October event will be an Evo 'How Fast' day, with track times and a league table of the fastest drivers – can you see your name at the top of that list? Get entering the competition now and spread the word.
Bedford Autodrome Track
The famous Bedford Autodrome is a 2.8 mile South West circuit and is the perfect track to test out your performance car on, regardless if you are experienced or new to track days. Evo Magazine describe the track as "a technical twist of fast flowing corners, tight turns and a lengthy back straight".
Bedford Autodrome claims to be 'the safest circuit in Britain' and has vast run-off areas and almost complete absence of Armco barriers. It's a huge track which can used for different track layouts, as required for each event. Interesting fact: the Bedford Autodrome is one of the only UK tracks that vehicles go around in a anti-clockwise direction.
The Bedford Autodrome website comfirms, "The GT is a massive 4.2 miles long, offers amazing value and putting together a good complete lap is a drivers challenge." You will be following in the footsteps (or tracks) of some of the best UK drivers, as this is the track used by the BRDC F4 Championship drivers in testing.