Rentecarlo's New Concept in Car Hire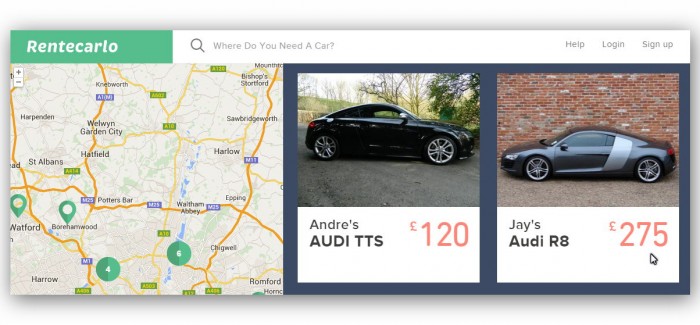 On

May 20, 2015

https://www.safelyinsured.co.uk
Safely Insured is proud to announce the launch of a new insurance scheme with the new car hire service from Rentecarlo. Rentecarlo have created a new concept in Car Hire, which allows car owners who are not using their vehicles for a period of time, to make them available for hire – and therefore make some profit. This concept of car hire could totally changed the way people perceive the use of and the costs of running their cars.
These days things need to be slick, fast and seamless. If people want something, they want it now; the same applies to cars. The Rentecarlo system provides a platform where individuals can rent out locally available cars from the general public. You can also become part of the Rentecarlo community and signup your own car – visit their website www.rentecarlo.com.
The vehicles available are vetted by Rentecarlo to ensure nothing but quality vehicles are on offer. Rental prices are determined by the owner themselves and some car owners have started to make a good profit through the service.
Rentecarlo from Rentecarlo on Vimeo.
Going up against competitors like 'EasyCar Club' and 'Drivy', who have similar schemes set up, as well general car rental services like 'Aviv' and 'Europcar', what makes Rentecarlo special? In our opinion it's the personal touch the site provides. These aren't just cars, they're Jonathon's Volkswagen Golf or Nathan's Renault Clio (which is just £25 to rent out right now).
According to Ignite 100's Paul Smith, Rentecarlo have tapped into a massively growing market, where demand is starting to outweigh provision. Today, 15 per cent of supply requests are going unmet. Entering the market with 1,000 sign ups and 300 cars already it is a business that has a lot to offer and is only continuing to grow.
HOW TO USE THE SERVICE…
1. The owner lists their car, uploads a photo to show it off, and then determines a rental price.
2. Renter books and pays online for the car. The Owner has the chance to inspect the renter's profile for themselves before making a decision.
3. Once the Driver is happy to offer the car, arrangements are made for both to meet and inspect the car together. Keys are then handed over.
4. Renter is required to re-fill the tank before returning the car and both are offered the chance to rate each other.
BENEFITS OF THE SERVICE…
Apart from it being free to sign up, Rentecarlo understands that you don't want just anyone using your car; likewise you don't just want any car. Rentecarlo is hands on, vetting owners, cars and renters to make sure everyone is happy with the end result. Including an additional 24/7 roadside assistance, Rentecarlo also manages to boast a potential 30% worth of savings than a typical car rental service.
Leading the way in this new concept in car rental, Safely Insured shows once again how we have the ability to resolve the insurance needs of products under our specialist schemes. Safely Insured provides a range of varying insurance services and this is just one of many different schemes that are part of our business.