Customer Car Gallery - Martyn and his Nissan Skyline R33 GTR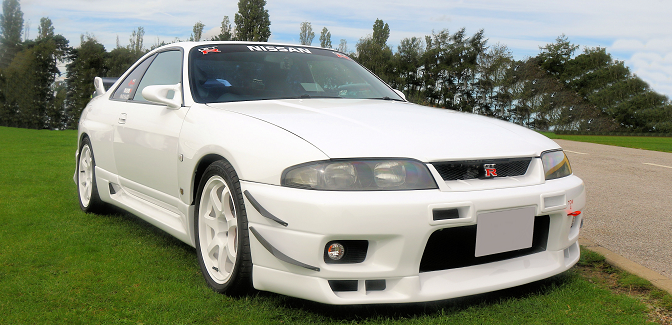 On

November 6, 2015

https://www.safelyinsured.co.uk
This weeks Customer Car Gallery post is about a beautiful re-built R33 GTR, owned by Martyn. Martyn's R33 GTR is insured through one of our Modified Car Insurance schemes.
Martyn has always had a love for the iconic Nissan Skyline, and has owned many different ones over the years. In January 2014, Martyn was diagnosed with Parkinsons disease, which as you can imagine, took its toll on him.
He had just sold his BMW E46 M3 due to it "not being exciting enough" for him! That was the first car he had owned in 10 years which was not a Skyline. He decided he needed something to take his mind off of things and once again it was time for a new Skyline.
Nissan Skyline R33 GTR
After lots of searching Martyn finally found one, owned by a fellow enthusiast from the GTR OC forum. Martyn and his friend Dan realised that the car needed a bit of work but agreed a price – unfortunately, there were a few more issues than they first realised.
A week later the car was completely stripped down – the body work was rather tired. After gutting the engine bay, the car was dropped to the body shop to under go its transformation. Martyn wanted to ensure that things were done properly, so they were advised that there was no time limit.
Martyn explained:
I had already got a plan, and had been collecting parts to make the GTR look and drive how I had visualised in my head. So it began, and I found myself captivated by this car and my focus was well and truly on getting this tatty car to a standard I would be happy with, and drive the way I expected / wanted it to.
Needless to say that the car is far from 'tatty' now.

After more than 400 hours of hard work on the car, it was complete, just a day before it was attending 'Classic 2015' (which took place at Silverstone in July). The car was there to take part in the 25 years of RB26 engine parade. It had not turned a wheel before it was on its way to the show. Although he was nervous, as soon as Martyn pressed the accelerator and heard the sound of that famous RB26, he knew that all the hard work had been worth it.
Martyn had over 100 parts powder coated red, black, silver or white. 300 assorted parts were chromed, and he overhauled as much as humanly possible for the car to be ready in time. The car itself draws a lot of attention but the biggest compliments are given when that famous RB26 is uncovered.
This car is now a full spec show car but not only does it look great, it has the performance side of things covered too. Martyn states that the car has gained a nickname of 'Pepperami' because it is an 'animal' that always surprises his friends. With 600bhp, I understand why this car may shock people.
Many people think that as soon as you are diagnosed with Parkinsons, that you can't / won't be able to do the things that you want to. Martyn and his story are proof that although your life will be affected, you should not hold back. Although Martyn has had his difficulties coming to grips with his diagnosis, the car has helped him through and helped keep him focused. If you have a passion, you should follow it and see what you can achieve – you may surprise yourself!
For more pictures of Martyn's Nissan Skyline R33 GTR, visit our Customers Car Gallery page.
For information relating to Modified Car Insurance or Performance Car Insurance, visit the Safely Insured website.