Customer Car Gallery: Harvey's Modified Honda S2000 GT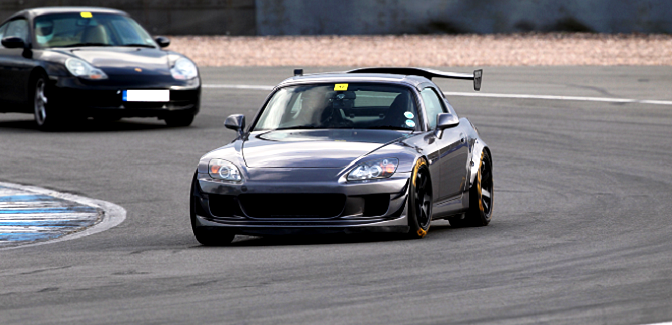 On

May 10, 2016

https://www.safelyinsured.co.uk
Everyone, meet Harvey's modified Honda S2000 GT. The car contains a 2.0 litre engine which currently runs at around 249BHP. The car has undergone many modifications, mainly in respect of its appearance, as opposed to power. However, as many of you will be aware, the S2000 engine is one which doesn't really require much modification work at all, if any.
Here at Safely Insured, we have the honour of insuring this eye-catching piece of design and engineering. We also got the chance to speak with Harvey who answered some questions for us regarding his car, his passion for cars and his plans for the future…
Honda S2000 GT
How did you first discover you have an interest in cars?
I've had an interest in cars for a very long time. I remember watching Dukes of Hazard on the television as a child and realising then, that I love cars.
What was the first car you ever owned?
My first car was a Ford Capri 3.0S.
The Honda S2000 GT modification list:
Interior swap from red to black
'Drift Front Grill' swap
Stock seats swap to Recaro race seats (from Honda Integra DC5)
'OMP Removable Race Steering Wheel'
Alpine head unit + uprated speakers + 12" JBL Subwoofer
Staggered 18" 'Rota Grid Race Wheels' with over fenders
'Tien Mono Flex' adjustable suspension with EDFC controller
Big Brake Kit: PB performance 6 pot 356mm
Pirelli P ZERO Race Tyres
K&N Race Air Charger
Evans Waterless Coolant Conversion
Skunk2 Mega Power Header
Skunk2 Mega Power Cat Back Exhaust
Stage 2 Brian Crower Cam shaft
AEM Series 2 ECU Controller (9,200 RPM Cut off)
Aluminium Light weight Pulleys
Spec Stage 3 Race Clutch
ACT Race Spec Light weight Flywheel
Carbon Fibre Rear Wing
Has the power within your car increased from when you initially bought it, to now?
The Stock power of my car is 240BHP however my car is currently running at 249BHP.
Do you plan on attending any car shows with your car this year?
I plan on attending a few car shows this year. In particular, the Japanese car meets at Ace Café in London.
Do you have any plans to add more modifications to the car?
At the moment there are no plans to further modify the car. I got married 2 years ago and now have a daughter; therefore I'm looking for a Family car. I will keep the Honda S2000 GT however and use it as a track day car. I'll also strip out the interior completely, to reduce any excess weight.
If you would like to see more pictures of Harvey's modified Honda S2000 GT, visit the Customers Car Gallery page.
If you want more information on Insurance for a Honda S2000, visit our Modified Car Insurance webpage.
We would like to say a huge thank you to Harvey for letting us into your world of cars.
Keep up the great work – the car is stunning!