Customer Car Gallery - Warwick's Audi RS3 Quattro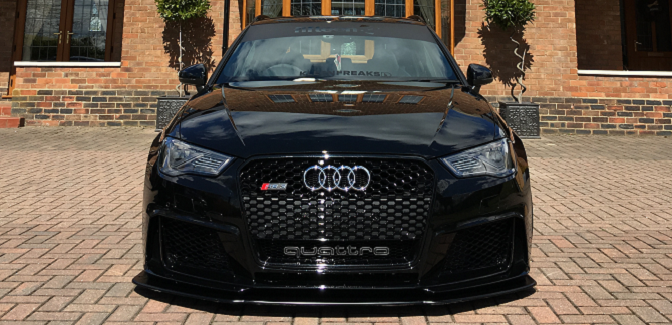 On

July 6, 2016

https://www.safelyinsured.co.uk
This very well known Audi RS3 Quattro belongs to Warwick, a customer here at Safely Insured. Warwick is often referred to by his Instagram name: 'Wardog701'. Why? Maybe because his Instagram has over 10k followers and it is safe to say his car is loved by many.
Warwick's car is a prime example of how the right modifications, alongside the right attitude, can not only transform the way the car appears to others, but it can also attract a large fan base whereby people also remember the person behind the wheel, not just the wheels.
I asked Warwick a few questions regarding his passion for cars and his Audi…
When did you first discover your interest in cars?
I first discovered I had an interest in cars when I was learning to drive. It interested me how you could modify them. This includes changing multiple aspects of the car, from its appearance to its performance.
What was the first car you had?
My first car was a 1.6 litre Ford Focus. It looked like something from 'Tokyo Drift' with two massive exhausts.
Audi RS3 Quattro
Warwick's car is an Audi RS3 Quattro which has a 2.5 litre Turbo engine, 5 cylinders, is 4WD and has 362BHP (from Standard). His car has transformed a fair amount from when he first bought it, to now. The changes include:
Air ride installation (which has made a massive difference, with custom install)
All the window trims were silver – they're now all blacked out (the car has more of a stealth look – also makes it a lot easier to clean)
The wheels have changed from standard
Custom exhaust fitted (from EMP Performance, based in St Albans)
Has your car been featured in any magazines / online forums? If so which ones, and when?
My car has not been featured as yet; however there is an impressive feature to look out for next month, in a very well-known car magazine amongst all of us car enthusiasts.
Will you be attending any car shows with your car this year?
Yes – I plan on attending the majority of the Volkswagen and Audi shows throughout the rest of this year.
Are there any plans to add more modifications to the car?
At the moment nothing is set in stone in terms of changes to the car, however next month there may well be some big changes on the cards.
We would like to say a huge thank you to Warwick for taking the time to tell us about his car. For more pictures of his amazing car, you can visit our Customer Car Gallery page.