Customer Car Gallery: Chris' 765BHP Toyota Supra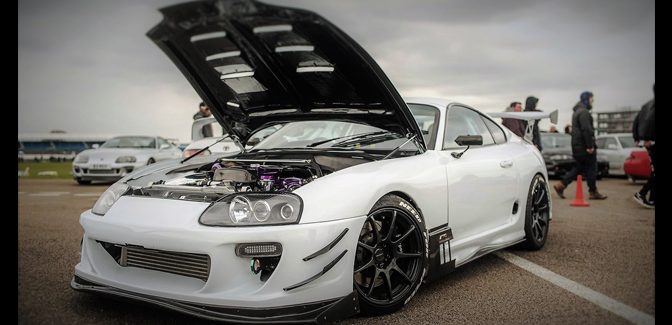 On

August 23, 2016

https://www.safelyinsured.co.uk
Today we welcome Chris' magnificent Toyota Supra MKIV 6speed Aerotop to our Customer Car Gallery. We are simply thrilled to be showcasing this 765BHP machine which has been modified, customised, and enhanced through sheer passion, determination, and a love of cars.
The car has had a complete overhaul in almost every sense, particularly on the engine. The engine has been fully forged to the point where it has the potential to withstand 1000+BHP (with the right supporting modifications, of course).
Chris chose a T67 Turbo, as he believed it has the best all-round acceleration and top-end speed.
The majority of the modifications are aftermarket and the chassis was completely stripped down to its shell and rebuilt. The chassis work was completed alongside obtaining an aftermarket bodykit, known by the name of RIDOX (and he got all the Carbon Fibre extras too).
Intrigued enough to want to know more? We thought so. We asked Chris some questions regarding his passion for the world of cars, his current Toyota Supra, and what plans he has for the future…
Car: Toyota Supra MKIV 6-speed Aerotop
Name: STAR T67R
Please can you tell us a little bit about yourself and when you first discovered your interest in cars?
Hello, my name is Chris and I'm the proud owner of the STAR T67R (known by my followers). The car itself took me 3 years to build, along with the help of SRD Tuning. I've owned Supras for 10 years. Out of all the Supras I've owned, STAR T67R, in my opinion, is the ultimate Supra you can own. It has big power, an Aerotop, is 6-speed, and is super FAST! I've loved Supras for as long as I can remember and they will forever be my car of choice.
Why is the Supra known as STAR T67R?
I named my car was because I noticed a lot of other people were also doing it on the mkivsupra.net forum. 'STAR' stands for Single Turbo Aerotop Ridox, and the 'T67R' part represents the Precision 67 Turbo. So with these two factors taken into account, it just made sense to me (well more sense than an average name, such as Dorothy).
How big a transformation has your car undergone since when you bought it?
The car has pretty much been re-built from the ground up. All of the parts were either replaced with upgrades, reconditioned, or bought brand new from Toyota.
This particular car, as stock, came with an N/A engine which usually produces around 200-220bhp, and had a 4-speed automatic gearbox. The car has gone through an incredible amount of changes in order to produce 765bhp / 596ftlbs torque at the wheels – which is what it produces now.
Do you often attend car shows throughout the year?
I try to attend as many shows as possible. I recently attended the 'Japanese Performance Show' on Sunday, 21st August. Throughout the remainder of 2016, I have 3 more shows lined up.
Has your car ever been featured in any magazines? Or on any forums?
My car was actually featured in the August edition of Japanese Performance Magazine. There has also been a detailed build thread about my car on the mkivsupra.net forum for a while now.
Do you plan to add any further modifications to the car?
I feel that with the current power, it's more than enough for the public road. This doesn't mean I won't be adding further modifications to it however. Maybe in the future I'll look at a bigger turbo, and a big fuel system, to see if I can push it all the way up to 1000BHP.
We would like to say an enormous thank you to Chris for taking the time to answer our questions and for providing some stunning photography of the car.
Do you want to see more pictures of Chris' amazing Toyota Supra?
If yes, you can visit: Our 'Customers Car Gallery' page | The STAR T67R Facebook page | The @star_t67r Instagram account
Chris' car is insured under our 'Modified Car Insurance' scheme. Do you want to know more?
If yes, you can visit our webpage: Modified Car Insurance