Customer Car Gallery: Meet Sophie and her Modified Honda S2000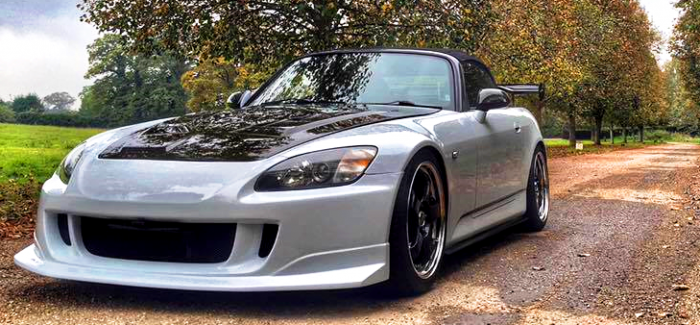 On

February 16, 2016

https://www.safelyinsured.co.uk
Modifying cars isn't just a hobby, it's a way of life. It's a culture that trends throughout the world, regardless of whether you're male or female. When it comes to Japanese modified cars, there's one girl and her car that a lot of people are talking about… Everyone, meet Sophie and her Modified Honda S2000 (1999 Japanese Import) who's modified car insurance is via us, here at Safely Insured.
Honda S2000
From having aspirations to buy the car of her dreams, to actually buying it and modifying it to her style and specification preferences, Sophie has put so much thought and passion into the whole of the process along the way.

So everyone can understand just how much work has gone into her S2000 we put some questions to Sophie, regarding her passion for cars, how she's modified her S2000 and her group she has set up which goes by the name of Modified Girls.
When did you first discover your interest in cars?
I would say that I have a few influences in answer to this question. It started with when I was around 4-5 years old. I used to be driven past an exceptional Corvette garage called 'Dart' on the way to school. This was the highlight of my day as I hated school.
I have always been into extreme sports and other extreme, adrenaline fuelled, male dominated sports. I used to be a sponsored downhill mountain bike rider when I was around 14-16 years old. This led me onto the world of cars eventually at the age of 17-21 years old. This is a shared passion with my brother who has always been into Nissan Skylines / Japanese cars and he is now an airline pilot. He currently owns his dream car which is a black R34 GTR.
What interests you the most about cars?
I think this is a difficult question to answer. There are several things that make me feel very passionate about cars. It is appreciating the beauty of a car, the sounds of a particular engine, the happiness it gives you to drive a car, the satisfaction of repairing something yourself or improving the car by modifying it. The mechanical side of things have always interested me ever since I worked in automotive engineering recruitment when I was about 22 years old and having to learn about the car industry. I read mechanics' PDFs which were very heavy going to get my understanding and knowledge. It's great to do something different to the day job! Then finally there is the scene that comes along with it; the people and the social side of it is so much fun. All of this, in my opinion, is much better than wasting my money down the pub every weekend and having nothing to show for it come Monday morning. It's great to have goals to work to!
What was your first car?
The obligatory Peugeot 106 which I learnt to drive in was my first ever car. I eventually moved onto an MG TF (which was probably the worst built car ever for me) the head gasket went on it 4 times. So I moved onto a mark 2 MX5 as it was more reliable and fun!  It was because of all the issues I had with the MG TF that made me want to save up and buy the S2000. A mechanic said to me at the time about the reliability of the engine and to do a swap in the MG. But I thought after test driving the S2000 that I decide to set myself a goal of saving up and buying one. It took me 8 years but I got there and I have no regrets! You know you bought the right car if you walk away from it and can't help but turn to look at it in awe!
How has your car transformed from when you first bought it, to now?
Previously the car was relatively standard. I have taken the car from a Silverstone grey to a Ford frozen white colour which really sets it off against all the carbon fibre that I have added to the car. I've changed the exterior look of the car with the APR racing body kit, side skirts, Seibon bonnet and APR racing spoiler. The SSR professor wheels cost me a fortune and are a serious amount of hard work to maintain, but the wheels really make the car and I love them! Lastly the custom painted engine bay with the Cadbury purple is also a real touch and a theme I plan to carry on with when I do the turbo conversion.
The car is near enough standard in terms of performance at the moment as it just has an induction kit and custom exhaust as engine mods. Once the turbo build is completed we will be looking at around 450BHP.
Specification list:
Type: Honda S2000 1999 Japanese Import – White
Wheels: SSR Professors
Exhaust: Custom DMS Pro 65 with Decat
Tegiwa Carbon Fibre Slam plate
Tegiwa Carbon Fibre Spark Plug Cover
Custom Cadbury Purple Engine Bay Paint Job
SFS Performance Hoses Cadbury Purple
Cross Member Cover
APR Racing Carbon Fibre Wing
Carbon Fibre Mirror Covers
AEM V2 Long Arm Induction Kit painted Cadbury purple
Seibon Carbon Fibre Bonnet
Seibon Carbon Fibre Boot
Exceedy Clutch
APR Racing Front Bumper
Custom Painted Diffuser Side Skirts
Skunk 2 Springs and standard suspension
Pioneer headunit and sub and amp in boot
Custom paint job in Ford frozen white
I've now just invested another 7K on coilovers, various other secret parts to really set the car off for show season in 2016 and a full turbo conversion (all parts imported from Real Street in the USA). The turbo build is currently being undertaken at the moment.
Has your car been featured in any magazines or online forums?
I have been spotted in Banzai, Fast Car and Japanese Performance magazine at a couple of shows in the past two years but have not had a full feature done yet.
Will you be attending any car shows with your car this year?
I will be planning to attend a few shows and Modified Girls will be going to Incarnation, Tunerfest, Trax and Japshow. We will also be holding a few other private events too. So come check us out!
Modified Girls
Sophie has also set up her own group and website. Here's what she had to say…
"Being a girl on the car scene is a bit of a roller coaster for many reasons. So after a few interesting experiences and upon meeting some other like-minded girls who are into working and modifying their own cars, I decided to start my own group called 'Modified Girls'. Modified Girls is quite a selective group of female car enthusiasts and we have purposely made it so. We have successfully created a brand name, forum and community for girls to network with each other, attend events and purchase merchandise. Everything from our Facebook group page to our custom made clothing and merchandise has been specifically designed for girls, (by girls) on all ends of the spectrum who are involved in the car scene. You can check us out on Facebook or visit our website: www.modifiedgirls.co.uk"
We would like to thank Sophie for letting us feature her remarkably impressive Honda S2000 and for taking the time to give us such in-depth answers regarding her commitment, energy and zest for the world of modified cars.
If you would like to see more pictures of Sophie's car, you can visit our Customers Car Gallery page.
Further Information: Modified Car Insurance | Imported Car Insurance | Performance Car Insurance