Customer Car Gallery: A 700bhp Supra (soon to be 1000+bph)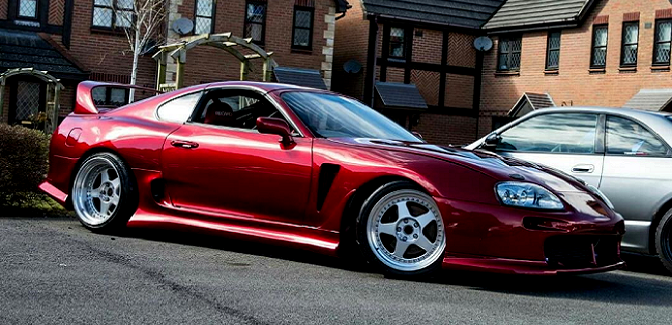 On

April 14, 2016

https://www.safelyinsured.co.uk
Now, this Customer Car Gallery article is one you avid Supra fans will not want to stop reading… Jason (one of our customers) owns a Toyota Supra, and as you've probably guessed, it's not a standard Supra. Jason owns a Toyota Supra Single Turbo Aerotop, which currently runs at 700bhp.
To say this Supra is his pride and joy would be an understatement. Such a large amount of time and effort has gone into modifying this car. It's recently had a variety of additional modifications added to it and there are also plans for further modification work to be done in the not so distant future.
Customer Car Gallery
We asked Jason, the owner of this incredible machine, a few questions regarding his car, his passion for cars, and how he's managed to transform it from a stock (non-turbo) Aerotop to the fascinating piece of engineering we see today…
When did you first discover your interest in cars?
As a child I always liked cars. After helping build a track worthy Mini when I was 12 years old, I became hooked. Once the first 'Fast and Furious' film came out, my passion for Japanese sports cars grew to new heights. Ever since that point, my dream car had always been a high powered Aerotop Toyota Supra.
What was your first car?
A Modified XR2.
If the power of your Supra has increased from when you first bought it to now, please detail how:
I have had many engine upgrades. When I first bought the car it did not have a turbo and was only 220bhp. Then, I did a twin turbo transplant which took the power close to 300bhp. I then did a BPU setup, taking the power to around 450bhp. After this, I pushed the twin turbos, so changed to a Holset single setup 550bhp. After the Holset died I got the Garret T88 single turbo (which is my current setup) and now the car runs at 700bhp.
Has your car been featured in any magazines / online forums?
I have not featured my car anywhere as yet – I have not finished everything I wish to do. However, this year it will be in certain magazines. My plans for another engine build will also follow in another edition.
Will you be attending any car shows with your car this year?
I will be attending a lot of Jap Shows the year, in addition to mod shows.
Are there any plans to add more modifications to the car?
Yes, I'd like a carbon roof, and the doors and boot will be on the list of weight reduction. I am also already building a 1000 bhp+ engine to drop in once it is done. This is currently on hold as my house project is going to take up most of my free time (and money).
Toyota Supra: The specifications
We also asked Jason for a detailed specification list of all the modifications on the car. The list is so long we simply could not fit them all in, however, here's a list of some of them:
Engine 
2JZ TT block (unmodified)
HKS cam belt
Stock TT inlet (with HKS fuel rail and HKS 1000cc injectors)
UK resistor pack for low imp injectors
Uprated fuel lines
Automotive fuel pressure reg
Bosch 044 fuel pump (in the tank)
Powerhouse T4 manifold
Garret T88 turbo
Garage wifbiz oil return pipe
60mm HKS waste gate
Transmission
6speed Getrag box,
Super light flywheel
Excedy 'twin plate clutch'
Large case LSD diff
Suspension
Brakes
J spec rear
Lexus front brakes
Wheels and tyres
Oz racing 3 piece split rims
Wheels – Fronts: 9.5
Wheels – Rears: 11.5
Tyres – Front: toyo r888 245 x 40 x 18
Tyres – Rear: toyo r888 305x35x18
Exterior
TRD widebody front bumper
TRD widebody front wings
Topsecret side skirts
Topsecret carbon bonnet
Topsecret rear spats
Nur Motorsport carbon rear wide arches
Darkened windows
Glass headlights
Full respray in candy red
Interior
6 speed tunnel fitted
Custom clock dials
Red led dash lights
Red led strip roof lights
snap off wheel hub
Momo red steering wheel
Recardo Red Recliners
IPad mini custom dash
Bluetooth link to syvecs ecu
Heater controls moved to custom made arm rest
Infinity 17cm component speakers front and rear
Alpine 4ch amp runing the components
Safety
Custom 6point roll cage (welded in)
4 point race harnesses
Fire extinguisher
Det detector & cut off
Temperature cut off
Insurance for a Toyota Supra
When you have a car as modified as this Toyota Supra, it's best to arrange a specialist quotation with a specialist insurer, with a Modified Car Insurance scheme. An 'Agreed Value' or 'Like for Like' modifications policy is beneficial due to the nature of the value of all of the modifications. It's also beneficial to have Comprehensive cover as opposed to Third Party, Fire and Theft. This car is insured with us, under our 'Agreed Valuation' policy scheme. If you are importing your car from another country, you may also want to read more on the topic of Imported Car Insurance.
We would like to thank Jason for taking the time to talk about his incredibly powerful Toyota Supra and all the hard work that has gone into making it the car you see and hear about today. We hope to see you at many car shows in the future and cannot wait to hear all about the new 1000+bhp engine build!
For more images of the Toyota Supra, visit our Customers Car Gallery page.
Further Information: Performance Car Insurance | Modified Car Insurance | Imported Car Insurance