The highly modified edition: Jamie and his Nissan 200sx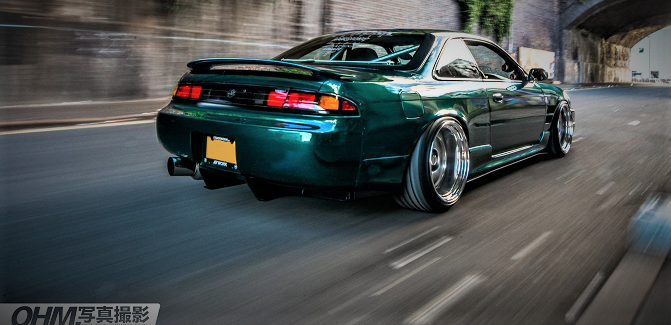 On

December 2, 2016

https://www.safelyinsured.co.uk
The Nissan 200sx is an iconic car for many reasons. One reason is drifting, whereas others may favour it for its versatility. There's a lot to be said for a car which is capable of a whole multitude of things. Some may also say that it's a timeless machine of who's exterior style ages well!
Aimee in our sales department spoke with one of our customers Jamie, who owns a highly modified Nissan 200sx. He's owned over 20 cars throughout his lifetime so far and Aimee was interested to know more when it came to his current car, as it's undergone a mammoth amount of modification work.
Want to know what she found out? Then here goes…
Q&A: Jamie
Jamie's car is insured via our Modified Car Insurance scheme. For more information, visit our Modified Car Insurance page.
Please can you tell us a little bit about yourself and when you first discovered your interest in cars?
"I have always been involved with cars, even from a very young age. My Dad has always been crazy about cars and has owned some fine examples. Even when money was tight, he would always make sure he was running us around in a nice car! I spent most of my time being driven around in Jaguar XJS's and BMW E28's as a kid. My Mum would also drive us around in XR3i Escorts and Honda CRX's.
I started buying 'Max Power Magazine' when I was around 10 years old and used to be obsessed with the crazy cars with body kits in the 1990's.
When I turned 17 and passed my driving test, I was lucky enough to buy my first project car in the way of a 1996 Corsa Sri 16v. I would spend every single penny modifying it and my love for "tatting with cars" grew from there."
Q&A: The Nissan 200sx

Can you list some of the modifications you've got in regards to the engine and management?
Garrett GT28R turbo with braided lines
Apex turbo manifold
HKS adjustable actuator
800bhp Stainless elbow
Japspeed Ultra Low downpipe
Blitz Nur Spec cat back system
And what about the modifications in regards to the suspension \ chassis?
Apex Gen 2 coil overs
6″ front springs
Hardrace adjustable toe arms
Apex adjustable camber arms
Whiteline front ARB
Apex half cage
What have you done to enhance the braking of the car?
R33 GTR Brembo front calipers
Ferrado DS2500 pads
330mm grooved rotors
R33 GTR BMC (BM57)
Tegiwa BMC stopper
ABS removed
Do you have different wheels / tyres on the front, compared to the back?
"On the front I have: Work Meister S1 18″ x 10″ ET4, in addition to Goodyear Eagle F1 225/40/18. On the rear, I have: Work Meister S1 18″ x 12″ ET-8, in addition to Goodyear Eagle F1 265/35/18."
You've also added some modifications to the exterior, can you list a few of them?
UK Touring Spec in Emerald Green
Chargespeed +25mm front wings
SRB +50mm rear overfenders
Ziax side skirts
Genuine Nissan Zenki JDM rear bumper
Zenki rear spats
And what about the interior of the car?
JDM Recaro recliner
CGB Motorsport recliner
Bride SL series base mount rails
TRS Magnum 4 point harnesses
Limited edition OMP Corsica 350mm leather steering wheel
D1 Spec snap off boss
How has your car transformed from when you bought it, to now?
"My S14a has gone through a pretty heavy transformation over the past few years. When I bought it, the previous owner had installed some very nice modifications to improve the performance and handling, but it needed some tidying up!
Along with general tidying up, I also spent a lot of time cutting and tubbing the rear arches, firstly for a set of +25mm Origin Labo overfenders and more recently for a pair of +50mm SRB Power overfenders. Along with Chargespeed +25mm front wings, Ziax skirts, a genuine JDM Zenki rear bumper and a few other custom touches, the bodywork was ready for paint.
I had the car fully resprayed in the original UK Spec 'Emerald Green DN1' which stands out in the sunlight! The biggest step came in the way of a set of Work Meister S1 that were built to my specifications, direct from Work. I'm running an 18"x10" ET-4 up front and 18"x12" ET-8 on the rear. They're by far the best modification choice I've made – they receive a lot of great feedback. Not many people are fitting huge wheels to stock bodied S14's so I think the poke and massive 6 1/2" of rear dish really stands out!"
Do you plan to attend any car shows in 2017?
"Yes! That's the main reason for this build, to try and get out to as many shows as possible and speak with like-minded people who share my passion. I tend to only do Japanese shows, such as: Japshow, Japday and Japfest etc."
Has your car been featured in any magazines / online forums?
"The car is featured in this month's Japanese Performance Magazine (November 2016) and I also have a project on the SXOC."
Do you plan to add further modifications to the car?
"I have a lot of winter plans which involve a full rear sub-frame rebuild and more tidy up jobs underneath the car. I also plan to spend a lot of time cleaning up the engine bay with some hose upgrades and a few other dress-up parts."
If you could own any car in the world (free of charge) what would it be, and why?
"Tough one! But it would probably have to be a Pagani Zonda R."
Do you have any advice for someone wanting to buy a 200sx?
"Go for it, they're incredible cars to work on and great fun to drive. Unfortunately, there's a large majority of them that are either drifted or rotten, so make sure you do your homework before you part with any money. Take a jack when you view the car to inspect underneath and sign up to www.sxoc.com. Everything you could ever want to know is on there."
Jamie's car is insured via our Modified Car Insurance scheme. For more information, visit our Modified Car Insurance page.
We want to send a huge thank you Jamie's way – for giving us a transparent view into his world. We have a sneaky suspension that the Nissan 200sx will be in his life for a long time to come yet!
Want to check out more pictures of his car?
Visit our Customers Car Gallery page or hop straight on to Jamie's Instagram page.