'Customer Car of the Year 2017' WINNER: Karl's 700bhp Toyota Supra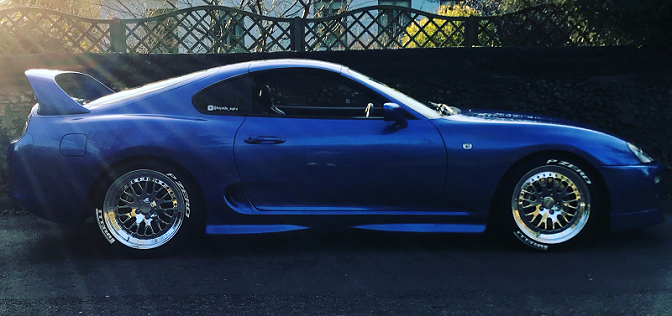 On

January 29, 2018

https://www.safelyinsured.co.uk
With 876 votes, Karl's 700BHP Toyota Supra Aerotop became the winner of our 'Customer Car of the Year 2017' competition. Congratulations again Karl, we're all so pleased for you here at Safely Insured! All of the cars that entered were either highly modified or of high performance – all worthy entries indeed. If you'd like to see the full results of the competition, you can do so by clicking here.
Karl's Supra has a 3.0 litre 2JZ-GTE engine, which produces a whopping 700BHP (with the help of many modifications). The car has also had a beautiful re-spray in the 'Nissan Bayside Blue' colour.
We spoke with Karl and asked him some questions about his car, his passion for the car world, and asked his advice for other people wanting to modify a car…
Q&A with Karl:
What was the first car you ever owned?
"The first car that I ever owned was a 1999 Volkswagen Polo, with a 1.0 litre engine."
How many cars have you owned?
"In total, I've owned 5 cars since I first started driving."
What's been your favourite car to drive?
"Without a doubt, the Toytoa Supra Aerotop that I own now."
What car would you own if money was no object?
"It would simply have to be a 'Lamborghini Gallardo Spyder'. I'd go for the manual option with a twin turbo conversion. That would be my dream car!"
What does it feel like to win 'Customer Car of the Year?
"It feels great. I am so glad the car is as appealing to others as it is to me. It makes all the time and money spent on this car even more worthwhile."
If you had to vote for a car other than yours, what car would you have chosen in the competition?
"Lee's RX7 or James's S15 were my favourites. But, saying that, it's very hard to choose – most of the cars in the competition were awesome."
Would you recommend any garages to perform work on your car?
"Yes, I'd recommend Garage Whifbitz. They've done a lot of work on my car and other people's cars that I know."
What's more important for you; visual modifications, or engine modifications?
"I've always preferred engine modifications (unless the car is a real mess)."
Do you attend any car shows / meets?
"This year in particular, I'm aiming to go to a few. These include: Japfest, Trax, Japanese Performance Show, and regular meets at Ace Café."
Do you use any groups / forums online to talk to fellow car enthusiasts?
"I regularly use the MKIV Supra owners club and I'm always on Instagram. I love talking to fellow enthusiasts. If you want to view my Instagram account you can do so by clicking here."
What would be your favourite race track in the world to drive on?
"It would have to be the 'Mazda Raceway Laguna Seca' in California."
What's your favourite sport relating to cars? 
"I love anything where it really gets your adrenaline pumping. The sports I most enjoy include: drifting, drag racing, and go-karting."
Who's your favourite F1 driver of all time? 
"Ayrton Senna, because he was the most naturally talented driver ever. He drove some of my favourite F1 cars of all time."
Do you have any advice for someone who wants to modify their car for the first time?
"Yes, find a car that's fast to start with. Making a fast car faster is far easier than making a slow car fast. I also always advise people to buy the best parts you can afford, if you buy cheap you will end up buying twice!"
Karl's 700bhp Toyota Supra Aerotop: The Modifications
CCW Classics custom made wheels
18×11.5 rears
18×10 fronts
315/30 rear tyres
265/35 front tyres
Full drivetrain swap to 2JZ-GTE engine, including a V161 6 Speed manual
Single turbo conversion with 'Borg Warner S300 SXE 66mm twin scroll turbo'
Garage Whifbitz twin wastegate manifold
Dual Turbosmart 40mm wastegates with dual screamer pipes
Turbosmart Raceport BOV
Whifbitz 264 cams
Line lock kit
Walbro 450 LPH fuel pump
ASNU 850cc injectors
Syvecs S6 ECU mapped by Romain at Syvecs
RSR exhaust and Whifbitz downpipe
Spec stage 2+ clutch (with lightweight flywheel)
Whifbitz 4″ front mount intercooler
Whifbitz catch tank
Tein coilovers
Recaro SR seats with full interior re-trim in black leather (with blue stitching and alcantara headlining)
Impressed? Yes, we are too.
Thanks Karl, for taking the time to talk to us about your incredible modification project of your 700bhp Toyota Supra Aerotop. Again, if you'd like to see more of Karl's car you can visit his Instagram page. Or, you can visit the Safely Insured Facebook page.
Modified Car Insurance
Within our 'Modified Car Insurance Scheme' we offer cover for the likes of cars such as Karl's 700bhp Toyota Supra – we love highly modified cars!
The sort of cover we can offer within these types of policies include:
'Like-for-like' modifications cover
'Agreed Valuation' cover
Second Car Discounts
Limited Mileage Discounts
For Comprehensive Cover, our minimum criteria is:
– You must be at least 21 years old (for drivers aged 19-21 we can offer 'Third Party Fire & Theft' cover)
– You must have proof of at least 1 year 'claims free' driving
– You must have held a full UK driving licence for a minimum of 2 years
For more information, visit the Safely Insured Modified Car Insurance webpage.
Further Information: Modified Car Insurance | Get a Quote | Safely Insured Website