The transformation of Terry's modified Toyota GT86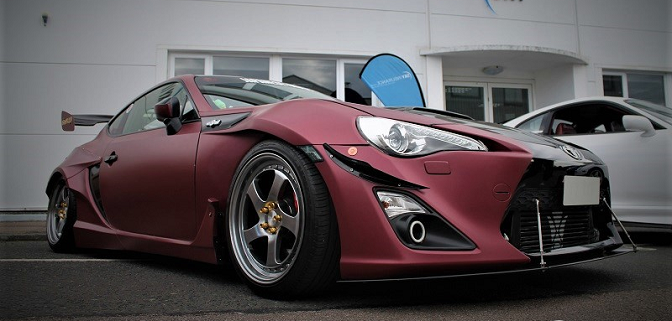 On

October 17, 2018

https://www.safelyinsured.co.uk
Terry and his best friend Jack have worked tirelessly on the transformation of Terry's modified Toyota GT86. We first saw Terry's GT86 up-close when he attended our 'Customer Car Day 2017' event. It was sporting an almost pearlescent exterior, with carbon fibre parts and many mods. It impressed us then, but to say it impresses us now is an understatement!
The car has notably changed since our event last year. As you can see for yourself from the 'after' picture taken at this years 'Customer Car Day 2018' event, the current paintwork and body kit gives the car a whole new look. It's a look which denotes strength and robustness. Its muscular exterior is enough to warn off its competitors, without any power necessary.
Let's find out what Terry thinks about the transformation, and find out how he did all the work…
Modified Toyota GT86: Explained…
In Terry's own words: "The favourite thing about my car is working on it. I have done all the modifications myself (and with my friend, Jack) apart from the ecu remap. Other than that, I just love the way it looks and drives.
I prefer the look now as it's more aggressive. The red wrap just finished the look off for me! In the future I plan to forge the engine, so I can get more power out of it. Am hoping to get around 500-550 whp when it's finally all finished. Maybe I'll get some new 3-piece wheels to finish off the overall look of the car too".
Find out more in this video detailing all the work that has gone into the car…
Spec / Modifications List:
Let's take a look at the spec list and what mods have been added to the car over time:
308 whp so around 375 at the crank
2 litre Toyota gt86 with flat four boxer engine
Kraftwerks supercharger kit
Mishimoto intercooler and silicone hoses All round
Carbon bonnet boot and rear spoiler
Trd rear louvers
Rallybacker rear wide arches and side skirts
Victory function front fenders
Ap front splitter
Brembro brakes all round
Full metal intake manifold with grams throttle body
Full focal sound system
Pioneer head unit
Irp short shift gear leaver
Core au racing seats with sparco harnesses
Blitz gauges
Momo steering wheel with nrg quick release
Full airlift performance air suspension and management
ECU mapped by Fensport
Full custom 3-inch exhaust manifold back with cobra unequal length manifold
Insurance for a modified Toyota GT86
Finding insurance for a highly modified car doesn't have to be hard work. At Safely Insured, we've set-up specialist schemes for these types of cars, such as Terry's modified Toyota GT86. These schemes are designed to cater for the cars capabilities as well as visual modifications etc.
Our Modified Car Insurance policies can offer:
Agreed Valuation Cover
'Like-for-like' Modifications Cover
Limited Mileage Discounts
Second Car Discounts
For further information, visit our Modified Car Insurance or Toyota GT86 Insurance webpages.
More Information: Safely Insured Website | Performance Car Insurance | Get a Quote