How to enter your car into our Customer Car of the Year 2018 Competition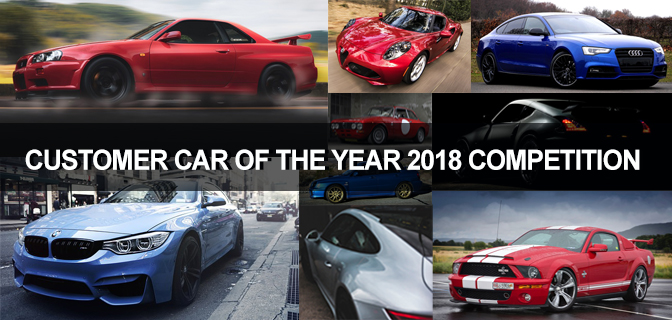 On

December 6, 2018

https://www.safelyinsured.co.uk
It's time for our Customer Car of the Year 2018 competition. We have to say, it's one of our favourite times of the year…
In previous years we've had all sorts of cars enter the competition, from a highly modified Nissan Pulsar, to an incredibly modified Nissan GT-R. Previous winners include a 700bhp Toyota Supra and an immaculate Nissan 200sx.
Who will win this year? Well, that's all down to which cars enter the competition. So, do you think your car has what it takes to be crowned the 'Safely Insured Customer Car of the Year 2018'?
How does the competition work?
Submitting your car into our competition is easy. We've listed the steps further on in this article. Once you've submitted your entry, you'll receive a confirmation email from us to say that we've received it. Once all the entries have been collected, we'll notify everyone to let them know whether or not their car has made it through to the 'voting' stage of the competition. This is where your cars will be put on display (well, an online display) for the public to vote for which one they think should be crowned 'The Customer Car of the Year 2018'. The winner will be announced in January 2019.
Customer Car of the Year 2018: THE PRIZES!
Having the recognition of winning a 'Car of the Year' title is great enough, right? Well, we thought we'd take it a few steps further and add some prizes into the mix.
So, what's on offer for the winner?
Halfords voucher
Dedicated feature article written about you and your car
Professional feature video made of your car (by us, at our offices in Hertfordshire)
Certificate and car window stickers
Sound good? We thought so. If we've interested you enough that you want to enter the competition, find out how you can…
How to enter the competition
Entering your car into the competition is easy. All you have to do is email us with the following information:
Your full name
Full make and model of your car (including its registration)
2-4 pictures of your car
Brief list of modifications
Engine size and BHP / power output
A sentence describing what you love about your car the most
To email, click on the 'email us' link above. If the link does not work, the email address to send your entry to is: [email protected]
The Conditions
You must be a current customer of Safely Insured. All entries must be submitted via email. The deadline for submitting your entry into the competition is 9.00am on Monday 17th December 2018. There's no guarantee that all entries submitted will make it to the voting stage of the competition. The information / pictures of your car you provide (apart from personal information, such as the cars registration) will be used by Safely Insured for marketing purposes.
On that note, we wish you the best of luck!
We simply cannot wait to see the fantastic array of cars that enter the competition.
We'll be waiting by the email inbox with anticipation…
Safely Insured
We are insurance specialists within the modified car and performance car sectors. We not only understand a thing or two about insurance, we understand the modifications and performance of your car too (many of us are car enthusiasts ourselves).
To learn more about the specialist insurance policies we offer, visit our Modified Car Insurance webpage, or our Performance Car Insurance webpage.
Further Information: Safely Insured Website | Get a Quote | Call Us