Craig's modified Ford Focus RS: Customer Car of the Year 2018 winner!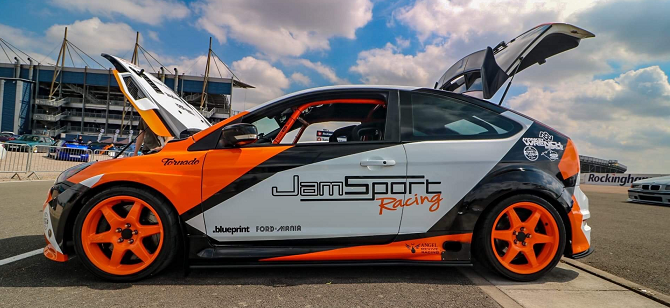 On

January 21, 2019

https://www.safelyinsured.co.uk
Craig's extensively modified Ford Focus RS recently won our 'Customer Car of the Year 2018' competition. What a worthy winner!
This car has been modified beyond belief. To say it's his pride and joy would quite literally be an understatement. The amount of dedication, work and imagination that has gone into this car is quite remarkable. Craig has never given up on his dream, and he's not about to start now…
Ford Focus RS: The Modifications
Before and after
Carbon Fibre Wing Rails
WRC Bonnet Vents
Streamline Carbon Interior
Custom Wrap by Blueprint
Roose Boost and Coolant Hose
Jamsport Orange Roll Cage
Lightweight Carbon Bucket Seats
Roof Wrapped by Blueprint
Aerocatches
ARP Uprated Head Bolts
Custom Boot Carpet by Streamline
BTCC Front Bumper and Wings
TTV Twin Plate Paddle Clutch
JS Custom Big Crossover Pipe
BC Racing Coilovers
Momo Snap Off Steering Wheel
Whiteline Front and Rear Anti Roll Bars
Whiteline Full Poly Bush Kit
Ferodo Endurance Pads
 Seat Harnesses
Vibratechnics Gearbox Torque Link
18″ Compomotive Allots and AD08R Tyres
JS Oil Breather Kit
JS Oil Cooler
44M Tial Wastegate
Screamer Pipe
Uprated Bigger Radiator
Stage 2 Cams
Autospecialist Chrome Parts
Carbon Fibre Battery Cover
Running 670bhp 702 torque
Running EMU Engine Management
Airtec Stage 3 Intercooler
Garret GTX3586R Turbo
Bigger Exhaust Housing on Turbo
Tubular Manifold
3J Platted Dif
Uprated Valve Springs
Oversized Forged Pistons and Rods
Monkeywrench Bespoke Lights
Ported, Polished and Gas Flowed Head
NGK9 Spark Plugs
Billet Anembo Inlet Manifold
JS 1000cc Injectors
JS Fuel Pump Upgrade
Uprated and Oversized Valves
JS Big External Fuel System
JS 2.5 Enlarged Boost Pipes
About Craig
I would like to thank Jamsport for all the work they do on my car. Monkeywrench bespoke for my custom headlights. Smartclean detailing for detailing my car ready for all the shows. Blueprint Nottingham for the wrap. As well as: SCC performance, Auto Specialists, and Jason Lavender of Kleers.

The reason for modifying my car was down to Jamsport, Dean Lewis and Nick Moore. When I bought the car it already had 500 BHP and I was happy with that, but I knew there was something missing. I wanted to keep the car moving forward and evolving, much like Dean and Nick who are at the forefront of the Ford scene at the time.
My name's Craig, I'm 47, and I'm a chef who loves playing badminton. My main passion is cars though, of course. I love taking the car to meets / shows and receiving lots of nice comments about the work that has been done to it.

I first started modifying cars when I was 20 years old and owned an old Ford Fiesta XR2. I didn't go overboard on it, but I did a small amount of modification work – mainly visual mods. Since then, I've never really looked back. Every car I've ever had has always been heavily modified. The biggest projects to date would have been my Ford Escort RS Turbo and my MR2 turbo. I spent a lot of money on them, with both running a fairly high bhp. My Escort, at the time of selling, was running 350 bhp and my MR2 turbo was running 500bhp. This time, the money was spent on performance and looks.

As for shows, I try to attend as many as I can throughout the year but sometimes this can be difficult because of my job. Even if I can't go, I have friends that can take the car for me. I like Ford Fair, Trax, and Fast Show. I attend all the Time Attack events and I go to a lot of car meets (cruises) with my close friends.

If I was to give advice to anyone who wants to modify a car for the first time, it would be to do it for yourself and not to do it for others. Do not be pressurised into doing things on your car that you don't actually want to do. If you are happy with how the car is at the end of day, that's all that matters. Remember, you can't please everybody.

Safely Insured have always been brilliant to me. There's never been an issue. Whenever I ring them, they have always given me great advice and the insurance quotes have always been very competitive. They have never been beaten on price and that's why I've been with Safely Insured for the last four years.
*views expressed within this section of the article are those of the customer, not Safely Insured.
We would like to take this opportunity to say a huge congratulations, again, to Craig. What a worthy winner of the 'Safely Insured Customer Car of the Year 2018' competition. All that's left to say now is watch this space – a feature video will be published soon!
Modified Car Insurance
Safely Insured are specialists when it comes to insuring heavily modified cars, such as Craig's Focus RS. That's why we've been able to set-up specialist modified car insurance schemes. Within these types of schemes, we can offer:
Like-for-like modifications cover
Agreed valuations cover
Second car discounts
Limited mileage discounts
If you would like to find out more information, just visit our Modified Car Insurance webpage.
Further information: Safely Insured Website | Get a quote | Call Us