Do you own a Nissan GT-R? At Safely Insured, we have a team of experts who can help with your specialist motor insurance policy. We understand just how powerful, and valuable, your car really is!
---
---
Insurance for a Nissan GT-R
Many owners of this type of car choose to add modifications to it. A modification classes as anything that has been altered from factory standard. For example, adding a modification could mean adding adding some new alloy wheels, or a modification could be as extravagant as an engine-swap.
The Nissan GT-R is also classified as a High-Performance Car. This is due to its beautiful high-end specification and high-performance engine.
Safely Insured believe that owning this type of car indicates that you have a real passion for cars, and as such will take great care of your car. That's why we think that premiums should be set accordingly. As a result, we're able to offer the following when it comes to our Modified / Performance Car Insurance policies:
Breakdown Cover
'Like-for-like' Modifications Cover
'Agreed Valuation' Cover
Discounts for Affiliated Car Club Members
Introductory Discounts
Limited Mileage Discounts
Second Car Discounts
For more information, visit our Performance Car Insurance or our Modified Car Insurance webpage.
---
Purchase Your Nissan GT-R Car Insurance with us Today!
If you're looking for a competitive insurance quote on your Nissan GT-R, then look no further. Here at Safely Insured, we're considered experts in both Modified and Performance car insurance!
Do you want a quote? Press the 'call for a quote' button to speak with us, or request a call back.
We specialise in many other non-standard car insurance markets, these include but are not limited to:- imported car insurance, performance car insurance, prestige car insurance, sports car insurance, hot hatch insurance and engine swap car insurance.
---
Customer Car Gallery
Alan's 695bhp, 3.8 litre, V6, twin-turbo Nissn GT-R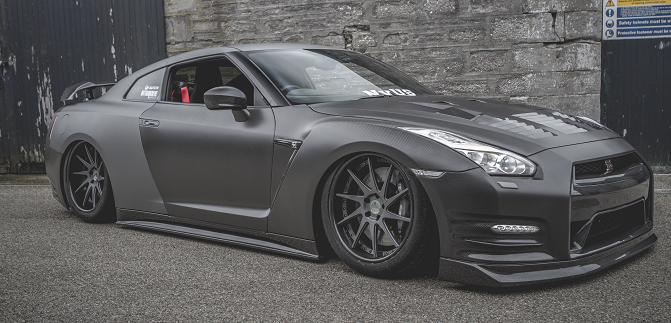 Our Customer, Alan, own's this incredibly stunning Nissan GT-R. As well as it looking visually amazing, the car has some impressive power behind it too!
Just a quick insight into it's modifications - it has had a Litchfield stage 4.25 upgrade and 1,100 cc fuel injectors. Lots of carbon fibre parts have been added also. These include: carbon fibre steering wheel cover, JCR carbon fibre shift paddles, and AG carbon fibre 421 wheels with Neochrome hardware (20/10 front and 20/12 rear). In terms of the exterior, carbon fibre parts include: the door handles, roof, bonnet damper, slam panel surround and intercooler intake, front splitter, rear diffuser, side skirts, fender vents, grille, front fender logo holders, engine cover, front wings, rear spoiler, front bumper, rear bumper, bonnet, doors, boot lid, canards, and mirrors. WOW - It's practically made out of carbon fibre!
Of course, the list of modifications goes on further. To read the full modification spec of the car, visit our blog by clicking here.