A look back at the Evo Track Events throughout the Summer!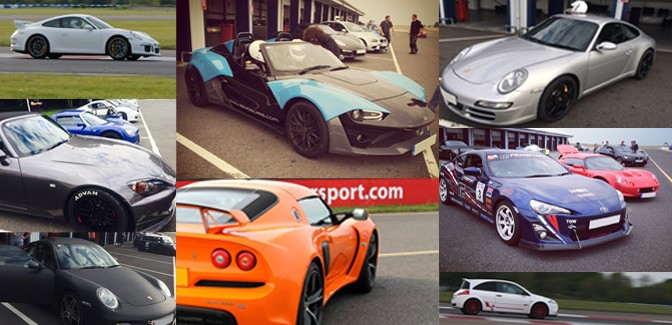 On

August 12, 2015

https://www.safelyinsured.co.uk
With the Summer slowly coming to a close, also comes the close of the Evo Track Events (evenings). Although, do not panic! In October (to be precise, October 31st – Halloween) Evo Magazine will be hosting a 'How Fast Day'. A group of drivers will be putting their vehicles limits to the test, trying to beat their rivals for the quickest time around the track.
We, at Safely Insured, are proud to announce that in-line with our continued affiliation with Evo Magazine, will also be sponsoring this event. It will go a little something along the lines of "Evo vs. The Public vs. Sky" and we simply cannot wait.
Cars on the Track
Across the four events we saw all sorts of cars on the Track. From a Mercedes SLS AMG to a Porsche 911 GT3, there was something for everyone to gaze at. Other cars and Marques included: Renaultsport Meganne R26R, Caterham, Aston Martin, Lotus, Audi R8, Vauxhall VX220, Porsche 911 Turbo, BMW and many, many more.
For more pictures from the events have a look at our Evo Track Events 2015 page or check out our Facebook page.
The Bedford Autodrome
All of the Evo Track Events, past and upcoming, are held at The Bedford Autodrome Track. The Bedford Autodrome is renowned for having 5 miles of entwining track, spread across 4 circuits, all of which are run on in an anti-clockwise direction. Technical driving ability isn't too much of an issue either. If you're not used to driving on a track, The Bedford Autodrome has 'run-off' areas whereby your car will simply spin on a grass verge before coming to a halt. Many tracks install hard, metal safety barriers, whereby if hit, can cause serious damage to both you and your vehicle. You can read more about The Bedford Autodrome here.
Henry Catchpole
As previously mentioned, we were lucky enough to meet with Henry Catchpole, Features Editor at Evo Magazine. Not only did he show off his driving skills, he also kindly took the time to answer a few questions for us. Not only did he give us an insight into why he loves what he does, he also explained to us how he managed to land his dream job.
In his own words:
"I'm essentially the luckiest so-and-so in the world, as I have my dream job as Features editor for Evo Magazine… I always devoured car magazines when I was growing up but when Evo was launched in 1998 (I was in the lower sixth at school at the time) I clearly remember thinking that here was something different and instantly knew that writing for Evo was my dream job."
If you didn't manage to read his article before, make sure you check them out now – you can read all about Henry Catchpole here.
Nick Trott
As well as meeting Henry Catchpole, we also got to meet with the Editor of Evo Magazine, the legend that is Nick Trott. With a passion for driving cars and an extensive knowledge base when it come's to understanding them, Nick's reviews are always a great watch. Below is a video of Nick Trott reviewing the Porsche 911 SC whilst taking every curve of The Bedford Autodrome Track like a natural, installing passion into every twist, turn and corner!
Jethro Bovingdon
At the thrid Evo Event, one of our team members, Luke Tilbrook, had the opportunity to go out in a Caterham 420R with no other than Jethro Bovingdon himself. Anyone who has heard of Jethro will know of his excellent ability to make cars do as he wants them to. Luke quite simply said, "Jethro is an amazing driver". At one point, another Caterham driver commented on Jehtro's driving ability, stating that "the front wheels were coming up, off the ground, as the car was exiting the corner sideways".
Ross Culver and his Porsche 911 Turbo
In line with our sponsorship of the Evo Track Events throughout 2015, we held competitions to win a car space at the May and July events. Our first winner was Ross Culver, who brought along his Porsche 911 Turbo to the event in May.
Our Digital Marketing Manager, Paul, had one of the most exhilarating car journeys of his life when Ross took him on Track in the Porsche. You can read more here.
In addition to Ross taking Paul out on the track, I myself, also got to go out on Track in the Renaultsport Meganne R26R with Henry Catchpole, Features Editor at Evo Magazine. What an unforgettable few laps!
Our sales advisor Aimee, also took her Ford Fiest Zetec S Celebration on the track for her first ever track day experience.
The winner of the July event was Ben, who brought along his beloved Toyota Supra. Everyone who understands a thing or two about cars will know that a Supra is a legend in itself, with a sustainable engine like no other. A few of our staff members got to watch the supra out on track and commented on it's ability to race like a dream.
The Evo Track Events 2015
So, in just three words how would we describe the events experienced throughout this year? Exhilarating, energizing, empowering!
Not only have we loved every minute but we're also filled with excitement for the 'How Fast Day' in October. This event will really push the driving capabilities of the group of drivers to the next level. It's time for those who 'think they can drive' to put their accelerator to the floor and prove it on the time board. Good Luck everyone!
At Safely Insured we don't simply specialise in modified car and performance car insurance. We're also huge car enthusiasts ourselves, hence how we manage to inject passion into our work! For more information on what we do, visit our website.